How to Withdraw a Divorce Petition
By Teo Spengler
Updated November 15, 2017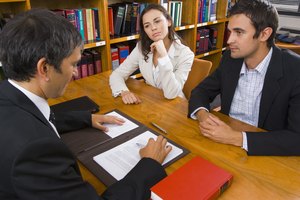 Pixland/Pixland/Getty Images
They say that breaking up is hard to do, but it's not that hard to undo. If you've filed for divorce and you and your spouse then reconcile, withdrawing a divorce petition is a piece of cake. You file a motion or an application to dismiss the divorce petition and the court grants it. If you and your spouse aren't on the same page, things get dicier.
Tips
To withdraw a divorce petition, you and your spouse should both sign either a motion to dismiss divorce complaint and/or a notice of dismissal without prejudice and file the papers with the court.
When Both of You Want to Stay Married
If one of you filed the petition and, while it is pending, both of you decide you want to stay together, it's a done deal. Nobody is going to force you to divorce because you filed for divorce. How to withdraw divorce papers? Go to the clerk of court and ask what form you need to file in your jurisdiction. While many states call the form a dismissal or motion to dismiss, there are other variations on this theme. Obtaining the form or instructions from the court clerk makes it certain you have the right one. Fill out the document, sign it and have your spouse sign it, then file it with the court.
When You Filed and You Want to Dismiss
If you filed the petition for divorce, you may be able to withdraw it without your spouse's agreement. Visit the clerk of court and ask if your spouse has filed any type of response, like an answer or a counterclaim. If not, you can file the document to dismiss the petition yourself. The court will automatically grant your dismissal.
If your spouse has already responded to the petition and filed a counterclaim, you cannot dismiss it without his agreement. If he has simply filed an answer but no counterclaim, the court may allow you to dismiss.
When He Filed and You Want to Dismiss
While it takes two to tango down the aisle, one person alone can initiate divorce proceedings. If your spouse filed for divorce, you can answer the complaint and file a counterclaim, but you don't have the right to withdraw the divorce petition. On the other hand, if you spot errors in the divorce filing, you may be able to get the court to dismiss. For example, if both of you live in California and he files in Florida, you'll probably succeed in getting the court to dismiss the petition.
References
Tips
Consult an attorney before withdrawing your divorce petition to ensure that doing so is in your best interest legally. If you want to put the proceedings on hold while you wait to see if things work out, file a notice of abatement instead. The filing process is the same, but your request should specify that you merely want to put the process on hold temporarily.
Warnings
Courts do not look favorably on individuals who repeatedly file for divorce and then withdraw their petitions. Courts understand that couples may reconcile, but feuding spouses shouldn't abuse the process or waste the court's time. Before filing for divorce or withdrawing a divorce petition, make sure that you're not acting in haste or in anger.
Writer Bio
With a Master's in English, a Master of Fine Arts in Creative Writing, and J.D. from U.C. Berkeley's law school, Teo Spengler is up on education. She splits her home time between San Francisco and France. A perpetual student and frequent teacher, she is also a writer and world traveler. Her work has appeared in numerous online publications including USA Today, Legal Zoom, eHow Business, Livestrong, SF Gate, Arizona Central, Fairmont Houston Chronicle, Navy Federal Credit Union, Pearson, Quicken.com, TurboTax.com, and numerous attorney websites.