How to Get Proof of Divorce
By Kimberly Turtenwald
Updated November 08, 2017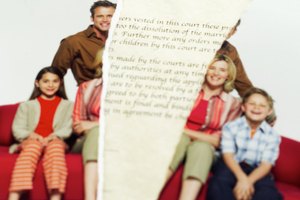 Stockbyte/Stockbyte/Getty Images
Once you have been granted a divorce, you most likely do not want to think about it anymore. Sometime in the future, however, you may need to prove that a court has officially dissolved your marriage. You may need to prove this when you are trying to remarry or if you are applying for a loan that would require a spouse's approval. To prove that you are divorced, you likely will need to produce a copy of your official divorce decree.
Keep your original copy of your divorce decree in a safe place, such as a safe deposit box or locked fireproof file box. Your lawyer will mail you a copy of the decree after the judge signs it. This will make it easy to provide the proof you need, exactly when you need it.
Visit the National Center for Health Statistics to locate the appropriate vital records office. You must contact the vital records office of the state in which the divorce was granted.
Go directly to the office to request a copy of your divorce decree in person if you still live in the area. This is the fastest way to get one. You may need to pay a fee for the copy.
Request a copy of the decree online if your state supports this service. Follow the links from the local vital statistics web page to the state's website records vendor, then fill out the request form online. You'll need a credit card to order copies of your divorce decree online.
Compose a letter to request a copy of your divorce decree if you no longer live in the area. Include the specifics of what you are requesting, including your name, your former spouse's name and the date of divorce and case number, if possible.
Include a self-addressed, stamped envelope with your letter to expedite the process of receiving your divorce decree.
Enclose the fee that is required for this type of service. The local vital statistics web page will tell you the exact amount of the fee for your state. Your request will not be processed if you do not include this fee.
References
Writer Bio
Kimberly Turtenwald began writing professionally in 2000. She has written content for various websites, including Lights 2 You, Online Consultation, Corpus Personal Injury and more. Turtenwald studied editing and publishing at Wisconsin Lutheran College.