Non-Durable Power of Attorney for Temporary Custody in Texas
By Beverly Bird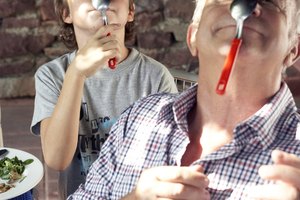 Soul/Lifesize/Getty Images
If a time comes when you cannot care for your own child for a period of time, Texas law allows you to authorize someone else do to so. You can grant a family member or another individual power of attorney to make decisions regarding your child when you're unavailable. A POA gives your agent, the person to whom you've assigned it, the ability to make the parenting decisions you would make yourself, if you were able.
Format
Texas offers childcare power of attorney forms through various state and private websites. These forms make the task of creating such a POA much easier; you only have to fill in the blanks. The form also allows you to name a "successor" agent. If your first choice becomes incapacitated and cannot care for your child, the powers you've vested in him transfer to another individual of your choice. Texas requires that you sign your POA in the presence of a notary, but you do not have to file it with the court. Giving it to your agent, and to the entities he'll be interacting with, is sufficient.
Duration
In Texas, a childcare power of attorney ends on the date you specify in the document, although you can revoke it sooner. "Non-durable" means that your POA also ends when, and if, you become incompetent or incapacitated during the time frame you've specified. A durable POA would last beyond your incapacitation.
Terms
Your non-durable POA allows your agent to take any action you specify on behalf of your child. However, you do have to spell out the powers you're granting in your document. Common authorizations include approving medical treatment, enrolling your child in school programs or sports, attending parent-teacher conferences in your place, signing insurance forms and essentially doing anything you would do yourself as a parent. If you don't want to give your agent authority to do one or more of these things, you can cross them out on Texas's statutory POA form.
Revocation
Texas also provides a specific form for revoking your POA. If you decide you don't want, or need, it to continue until the date you set in the document, simply complete the revocation form and give it to your agent. You should also give a copy to all possible entities with whom your agent might interact on your child's behalf, notifying them that the POA is no longer in effect. This serves as added protection against your agent continuing to use it.
References
Writer Bio
Beverly Bird has been writing professionally since 1983. She is the author of several novels including the bestselling "Comes the Rain" and "With Every Breath." Bird also has extensive experience as a paralegal, primarily in the areas of divorce and family law, bankruptcy and estate law. She covers many legal topics in her articles.