How to Get a Copy of a Divorce Decree in Maryland
By Beverly Bird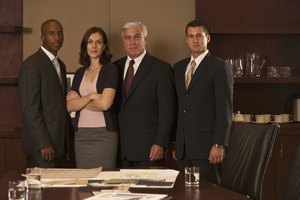 Comstock Images/Comstock/Getty Images
Although a divorce decree is a court order and is therefore technically a matter of public record, most states have tightened their procedures regarding who can actually get a copy since the events of September 11, 2001. Maryland requires that the person who is making the request for a decree have some intimate knowledge of it, such as the exact date the judge signed it. If you're looking for a copy of your own decree and you don't know the date, you can still get a copy, but you'll need proof of your identity.
Call or visit the Maryland Vital Statistics Administration in Baltimore and ask for a form for an application for verification of divorce record, or access it online. The verification will confirm the exact details of your decree. You'll need this accurate information to request a copy from the court.
Complete the application and either take it to the Division of Vital Records, or mail it to the DVR at P.O. Box 68760, Baltimore, Maryland, 21215. You'll need to prove your identity to get this information regarding your decree so that you can request a copy of it from the court. The DVR will accept a government photo ID, such as your driver's license, that proves you are one of the spouses named in the decree. If you mail your request in, you can make and include a copy of your ID. If someone else is picking up the verification for you, you can authorize this by giving her a signed letter to provide to the DVR, but a notary public must attest to your signature. You should also include a copy of your driver's license with the letter.
Take your verification information from the DVR to the circuit court clerk in the county where you received your divorce. The verification will tell you exactly how your name and that of your spouse appears on your decree, such as if you used a middle initial. It will also tell you the date the court entered your decree. Provide this information to the court clerk.
Request either a certified or regular copy of your decree from the clerk. A certified copy is an official version with a seal and costs a little more. Some courts, such as the one in Baltimore County, do not take credit or debit cards, so make sure you have a check, money order or cash with you to pay the fee. The fee is usually nominal, about 50 cents per page as of 2011.
Tips
If you already have an old copy of your decree and you just need a new, official version, you can bypass verifying its identifying details with the DVR, because you already have all the information you need. Just take your old copy to the circuit court clerk. If you used an attorney for your divorce, you can also usually get an unofficial copy of your decree from him to take to the clerk. However, some attorneys only hold on to their closed files for seven years before destroying them.
Warnings
Avoid using online public records searchers. These companies cannot provide you with a copy of your Maryland divorce decree. Your decree is available only through the circuit court. If you use an Internet company to get a copy of your decree because you think it might be faster or easier, what you'll actually receive for your money is a divorce certificate, simply confirming you were divorced.
References
Writer Bio
Beverly Bird is a professional writer who is also a practicing paralegal in the areas of divorce and family law. She has offered community workshops for single parents, helping them with the financial and lifestyle issues they often face.