How to File an Answer in Child Custody
By Holly Cameron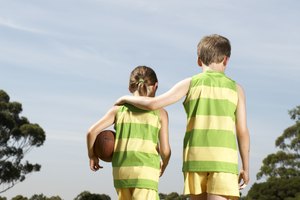 Ezra Shaw/Digital Vision/Getty Images
Each state has its own rules regarding the legal process for custody, but most follow broadly similar procedures. Parents should understand the difference between physical and legal custody: Physical custody relates to where a child lives, and legal custody involves making important decisions for the child. A court can award physical and legal custody to either or both parents. Court rules in all states allow parents the opportunity to file answers in child custody cases. The purpose of an answer is to rebut any statement in the original complaint and to state your point of view regarding custody of your child.
Read the documents carefully. When serving you with the opportunity to answer, the court will enclose a copy of the original complaint. It's best not to respond immediately but to take a few days to consider your answer.
Note the deadline for your answer. Most courts will give you at least two weeks to answer the complaint, and you should make sure that you file your answer within the time limit. If you don't file an answer, you could lose your right to claim custody.
Formulate your own answer. Most courts will send you a pre-printed form for completion. If not, you can create your own word-processed document. Remember to include the court reference number in all documentation so that your answer can be filed with all other papers. Take your time to do this, as once filed, your answer becomes part of the court process. In your answer, you should respond to any claim made by the other parent. You can also make your own counterclaim, stating your wishes regarding custody.
Take advice from a specialized family lawyer if you are unclear about your legal rights. The court can provide you with the names of local lawyers to consult.
Complete and sign your answer. Some courts may require that you sign your answer before a notary public and will provide you with the details of local notaries. This is a fairly straightforward process, and the notary public will charge a small fee.
File your answer at the court. You can either mail the answer or hand it in. You can ask the court officials to read your answer and check that it has been completed correctly before you file it formally. You may have to make multiple copies of your answer.
Serve your answer on the other party. The court can provide you with detailed instructions on how to serve, but in most cases, you can serve your answer either by mail or by hand. For a fee, a registered process server can deal with this for you.
Retain a copy of your answer so that you can refer to it in any subsequent court hearing.
Consider mediation as a means to resolving disputed child custody issues. Your local family court can provide information on available mediation services.
Tips
Contact the court if you are unsure about the process – they will be happy to guide you through the procedure.
Warnings
Always check procedures for your state.
References
Writer Bio
Based in the United Kingdom, Holly Cameron has been writing law-related articles since 1997. Her writing has appeared in the "Journal of Business Law." Cameron is a qualified lawyer with a Master of Laws in European law from the University of Strathclyde.