Foster Care Grants for Homes
By Jason Prader
Updated April 18, 2017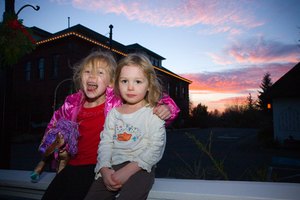 The U.S. government offers grants to individual states to assist with funding foster homes. These funds help ensure that children who are separated from their parental homes on a short- or long-term basis are cared and provided for properly. Government funds can be used to initiate and develop a foster-home-care scheme, rather than helping individual children via social security benefits.
Foster Care Title IV-E Foster Home Grants
The Foster Care Title Scheme issues funds to foster homes and state boards to assist with the daily needs of children in foster homes. The funds can be used to train foster home workers and potential foster parents on effective strategies to care for the mental and physical well-being of the children in their care. Foster Care Title funds are not intended to assist with paying for counseling or other social-assistance programs. Decisions on foster home grants under this scheme are typically made each quarter. Applicants should expect to wait six weeks to six months before receiving a decision.
Freddie Mac Foster Home Grants
The Freddie Mac Foster Home program offers payments to homes that create and develop stable environments for children and works at finding adoptive parents so that children can eventually move out of the foster-care system. This scheme also assists homes that help children with academic achievements and career goals. Homes that apply for assistance can choose from a range of specific grants such as Capacity Building and General Operating Support grants. There is usually a $50,000 limit on grant applications to Freddie Mac. However, the Capital Projects grant scheme can provide funds in excess of $50,000 under special circumstances. The Capital Projects grants are acquired by invitation only and help support new foster home construction, renovations and the purchasing of essential equipment.
Chafee Foster Care Grants
The Chafee Foster Care Grant system is funded by the Department of Health and Social Services and provides support to individual state boards to help fund child foster home programs. The Chafee grant is intended to help children who are likely to remain in foster homes until they are adults and children who have previously been residents in a foster home. Chafee funds are used to promote and develop educational resources and occupational training. They are also intended to provide counseling services for children with mental-health problems. Applications for Chafee Foster Care grants should be made by the end of June each year 1.
References
Writer Bio
Jason Prader began writing professionally in 2009, and is a freelance writer with a sound academic background and experience in writing articles for online magazine Shavemagazine.com. He is highly adept at constructing academic essays and producing articles on an array of subject matter. He holds a master's degree in 20th century literature from the University of Sussex.