How to Know When Your Divorce Is Finalized?
By M.T. Wroblewski
Updated November 15, 2017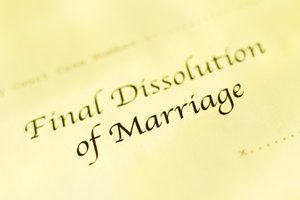 Stockbyte/Stockbyte/Getty Images
There's a good reason why attorneys, psychologists and, especially, divorced people call divorce a process. It's exactly that, right up to the moment when you're holding the final divorce decree in your hand. Even if you went to court for the final hearing and heard the judge officially dissolve your union, you still have to wait for the judge to sign the judgment and for the county clerk to enter the details in the court records. This is when your divorce is considered finalized and also when the decree becomes a matter of public record. This part of the process could take as long as a month.
Tips
Your divorce decree will be mailed to you eventually, but you can track down a copy yourself if you don't wish to wait.
Check the County Website
Most jurisdictions in the United States allow you to search public records online. Depending on the website, divorce records may be found under the vital records section, which includes records of births, deaths, marriages and divorces. This part of the process is made easier if you know the case number assigned to your divorce. If you don't know the number, you should be able to search by first and last name. Then, follow the prompts until you find the status of your divorce. If the case is marked "active," it means the judge has not yet signed the judgment of divorce. "Disposed" means that the judgment has been signed.
Request a Copy From the Courthouse
Since a divorce decree is an important legal document, you should secure a copy and keep it in a safe place. You might need your divorce decree in the future when you want to take out a car loan, apply for a mortgage or, if reverting to your maiden name, provide proof of your identity. Once you know that your divorce is finalized, you can get a copy of your decree from the county clerk's office in your jurisdiction. Be sure you know your Social Security number, and prepare to pay a small fee for the copy.
Wait for the Decree to Arrive in the Mail
If you're unable to visit your county clerk's office, then you'll simply have to wait for the decree to show up in your mailbox. The wait may test your patience, but eventually the document will arrive so you can hold it in your hands knowing the process is truly complete. Read through the decree carefully, especially if you or an attorney made last-minute changes at your final hearing that you were asked to initial.
Pay a Visit to Your Attorney
Most attorneys keep divorce decrees on file for seven years, so your attorney should be able to provide a copy of yours. To save time, call your attorney first and make an appointment to get a copy of your decree.
References
Writer Bio
Mary Wroblewski earned a master'sdegree with high honors in communications and has worked as areporter and editor in two Chicago newsrooms. She launched her ownsmall business, which specialized in assisting small business ownerswith "all things marketing" – from drafting a marketing planand writing website copy to crafting media plans and developing emailcampaigns. Mary writes extensively about small business issues, andespecially "all things marketing."