How to Deal With a Lost or Misplaced Final Divorce Decree
By Kimberly Turtenwald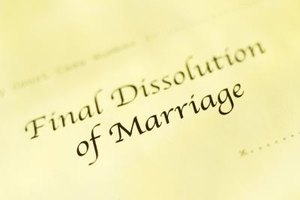 Stockbyte/Stockbyte/Getty Images
If you lose your final divorce decree, you may not need to replace it unless you are required to show it, such as in obtaining a new marriage license or otherwise proving your divorce, or you need to know what it says. If you find you need to replace your lost divorce decree, you can make a request through the vital records department of the state in which your divorce was finalized.
Step 1
Write a letter to the Department of Vital Records in the state in which your divorce occurred.
Step 2
Include the full names of the people who were parties to the divorce, where the divorce took place and the date of the divorce to help the clerk find the divorce decree more easily.
Step 3
Include who you are and why you are making the request. If you need an additional copy of your decree because you lost your original one, you will be given precedence over someone who is making a genealogical inquiry.
Step 4
Create a self-addressed, stamped envelope to send along with your request. Doing so will will allow you to receive your divorce decree more quickly.
Step 5
Call the Department of Vital Records for your state to inquire how much a copy of your decree will cost. The fee varies by state.
Mail your request, along with the fee and a copy of your driver's license if your state requires it, to your state's Department of Vital Records. The length of time your request will take to process varies by state.
References
Tips
Print or type names clearly with the last name in all capitals so they are easy to locate and read.
Warnings
Do not make multiple requests in the same letter.
Writer Bio
Kimberly Turtenwald began writing professionally in 2000. She has written content for various websites, including Lights 2 You, Online Consultation, Corpus Personal Injury and more. Turtenwald studied editing and publishing at Wisconsin Lutheran College.