How to File an Uncontested Divorce in Brazoria County, Texas
By Claire Gillespie
Updated July 25, 2018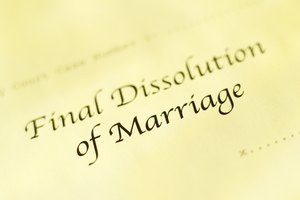 Stockbyte/Stockbyte/Getty Images
Divorce can be difficult and stressful. An uncontested divorce is the most amicable, straightforward way to file for divorce because both spouses agree on how all issues relating to children and finances will be resolved. This means the court is not required to interfere.
Tips
To file for an uncontested divorce in Brazoria County, Texas, complete a divorce petition and file it by mail or in person with the Brazoria County Clerk's office.
Meaning of Uncontested Divorce
An uncontested divorce means both parties agree to be divorced and have also reached agreement on all related issues. These issues typically include parental visitation, parental decision-making responsibility for their child's welfare like healthcare, education, etc., the amount and duration of child support, any spousal support and the division of property and debts.
Brazoria County Divorce Procedure
As well as agreeing on all issues relating to the divorce, you or your spouse must have lived in Texas for at least six months and in Brazoria County for at least 90 days to file for uncontested divorce in Brazoria County.
Start the process by filing the Original Petition for Divorce. You can get this from the Brazoria County Clerk's Office or the Brazoria County website. You need to provide contact information for both spouses, the date of the marriage and the date of separation.
Your spouse may sign a Waiver of Service in front of a notary, at least one day after the Original Petition for Divorce is filed, to tell the court she has received a copy of the Original Petition for Divorce and does not want to be formally given a copy by a constable, sheriff or process server.
File the original and the two copies of your Original Petition for Divorce with the Brazoria County District Clerk, paying the filing fee of $50.
You will have to appear in court for a very brief, informal final hearing. Your spouse is not required to attend. Generally, uncontested divorces are usually finalized within 70 days of the Original Petition for Divorce being filed.
Other Uncontested Divorce Forms
If you are on government benefits or cannot afford to pay court fees, you can submit an Affidavit of Indigency to ask the Court if you can file for divorce without paying the court.
If you or your spouse moves, you must file a Notice of Change of Address to ensure the court has up-to-date records.
An Affidavit of Military Status reports to the court your spouse's active military duty, if relevant.
References
Writer Bio
Claire Gillespie writes about health, science, home and parenting. She has bylines on SELF, SheKnows, The Washington Post, Vice and more.