Legal Abandonment of Children in Virginia
By Dan Ketchum
Updated January 07, 2019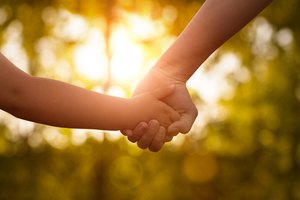 Nastco/iStock/GettyImages
When you think about child abandonment laws, it's only natural for your mind to go to a negative place. But in Virginia, as elsewhere across the United States, the combination of legal abandonment laws and helpful nonprofit programs give mothers who aren't ready for parenthood a safe option for releasing their children into adoption programs at or near birth.
Laws for abandoning a child in Virginia intersect with federal legislation, particularly the Promoting Safe and Stable Families Amendments of 2001, but these laws have mostly been the result of a long-running grassroots community effort.
Tips
State law in Virginia has made some cases of voluntary child abandonment legal since 2004.
Abandoned Infant Legislation
The Promoting Safe and Stable Families Amendments of 2001 (P.L. 107-133) became federal law in January 2002. These laws expanded the definition of family preservation services, covering what are known as infant safe haven programs. According to the legislation, these programs "provide a way for a parent to safely relinquish a newborn infant at a safe haven designated pursuant to State law."
West Virginia had already enacted abandoned infant legislation in 2000, but its eastern neighbor had a bit of catching up to do.
History: Legal Abandonment in Virginia
Just as the Promoting Safe and Stable Families Amendments of 2001 was becoming federal law, the nonprofit safe haven group, Into Safe Arms, was making moves in Virginia. This program forged a partnership between local law enforcement agencies and hospitals that enabled new mothers to leave their newborn children at a hospital as a form of legal abandonment. This had previously been treated as illegal child abandonment and it came with a misdemeanor charge of up to one year in jail and a $2,500 fine.
The hospital can now issue the child a clean bill of health and the nonprofit group will guide the newborn through a placement program, leading to eventual adoption.
This system was brought before Virginia's General Assembly by Into Safe Arms founder Sonya Nachman in 2004. It was cemented into state law that same year, reflective of legislation that had previously been enacted in 45 other states, beginning with Texas in 1999. Almost 400 infants were legally abandoned in Virginia within five years, according to the Daily Press.
Thanks to the efforts of Into Safe Arms, a mother or father can leave an unwanted child at any hospital in the state without facing criminal or civil charges. In fact, they're not even required to identify themselves.
Virginia Child Abandonment: The Rules
Infants must be unharmed and no older than 2 weeks of age at the time they're dropped off to be protected by state child abandonment laws and safe haven programs in Virginia. Any hospital that hosts 24-hour emergency services is eligible, as are those with a rescue squad that employs emergency medical technicians.
Fire stations are also eligible. The child must be handed off directly to a doctor, nurse or staff, and these laws do not excuse parents from prosecution in cases of infant abuse.
The parent relinquishing the baby to the hospital is not legally required to provide any information whatsoever, although Into Safe Arms recommends providing basic info about the child for health purposes, such as date of birth and the parent's medical history. Parents are given a numbered bracelet that identifies them as such at the time they drop a child off. This bracelet provides proof of parentage in case the parents change their minds. Parents have 30 days to speak with the authorities and reclaim the child should they do so.
References
Resources
Writer Bio
Dan Ketchum has been a professional writer since 2003, with work appearing online and offline in Word Riot, Bazooka Magazine, Anemone Sidecar, Trails and more. Dan's diverse professional background spans from costume design and screenwriting to mixology, manual labor and video game industry publicity.