How to File Endangerment to a Child Charges
By Sameca Pandova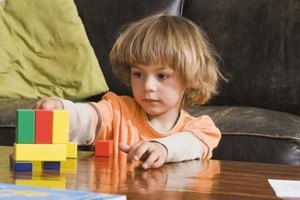 Jupiterimages/Polka Dot/Getty Images
Child endangerment statutes exist in every state and generally prohibit any person to cause or permit a child to suffer, or willfully permit circumstances or conditions that are likely to produce great bodily injury to the child when in the custody or care of the adult. Often a charge of child endangerment can be added as an additional charge when law enforcement makes an arrest for other crimes (such as DUI or possession of narcotics) with children present. If you believe that a parent or custodian is endangering a child, you can file a complaint with the police or with social services.
Step 1
Collect information and evidence on the endangerment incidents you believe are occurring. The more specifics you can provide, the more information the police will have to make a determination. Be sure to record time, address, and specific details when possible. If these events are occurring nearby at a neighbor's house, consider videotaping any incidents that occur in public to present to authorities.
Step 2
File a complaint at the local police station. You can either call ahead to ask to set up an appointment with an officer, or walk in and ask to file a complaint. An officer or detective will meet with you to review your allegations, taking a look at the evidence you present. The police will begin investigation of the incident and may follow up with you.
In many states, police officers are mandated reporters who are required by law to report suspicions of child abuse or neglect to the state Department of Human Services. The group of mandated reporters also includes physicians, mental health workers, clergy, school staff, and child care providers. Thus, if you know any of these people who are involved in the abused child's life, contact them to inform them of the alleged abuse.

Read More: What Happens When Charged With Child Endangerment?
Step 3
Contact your state Human Services department or child welfare unit. Most larger cities have dedicated child welfare units, which have their own police investigators. For example, the Michigan Department of Human Services maintains a hotline for anyone to complain about abuse or neglect against a child or an adult.
Contact the county prosecutor's office. Many state or district attorneys maintain dedicated child protection units that have teams of prosecutors, social workers and police officers who work in unison to protect children threatened by abuse or neglect. You can call ahead to schedule an appointment, or walk in to make a complaint.
References
Resources
Writer Bio
Based near Chicago, Sameca Pandova has been writing since 1995 and now contributes to various websites. He is an attorney with experience in health care, family and criminal prosecution issues. Pandova holds a Master of Laws in health law from Loyola University Chicago, a Juris Doctor from Case Western Reserve University and a Bachelor of Arts in history and political science from Case Western.