How to Find Divorce Records in Orange County, Florida
By Editorial Team
Updated March 19, 2019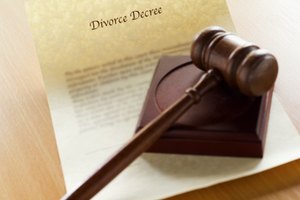 Stockbyte/Stockbyte/Getty Images
Divorce records in Orange County, Florida, are maintained by the Clerk of Courts. In the past, searching for a divorce record meant going to the clerk's office and poring through a list of cases. But today you can easily search divorce records and other records through the Clerk of Courts' my eClerk website. The service is free, and anyone can conduct a search.
Go to the Orange County Clerk of Courts' my eClerk website. Click on the "Family Case Records" link under the Court Records Search box. A new window will open.
In the Search Criteria form, select "Dissolution of Marriage" for the Case Type.
Enter all of the information that you have regarding the case, such as first, middle and last name of one of the people whose marriage was dissolved. You can also enter the case number, citation number and the date range of the divorce case. The more information you enter, the more accurate the search result will be.
Click on the case number of the file you wish to view. The website will display a case summary that lists the status of the case and a history of all filings that have been made in the case.
If you cannot find the divorce record through the my eClerk website, try sending a request online. You can also submit a records request by mail by sending in a Request Records by Mail form or request a record in person by visiting the Orange County of Clerk of Courts at 425 N. Orange Ave., Suite 150, in Orlando.
Tips
You can view a physical file of the divorce case at the courthouse where the case was filed so long as you were a party to the case and present personal identification. If you were not a party to the case, you will only be able to view a redacted copy of the court file. You can get copies of the case by paying a small fee.
References
Resources
Tips
You can request a copy of a divorce petition and other documents by making a request at the Orange County Courthouse or the branch office where the petition was filed. You also can request a copy by mail or email. You must pay a fee of $1 per regular page and $1.50 per legal-sized page. You can find the addresses and maps on the Clerk of Courts's website.
Writer Bio
This article was written by the CareerTrend team, copy edited and fact checked through a multi-point auditing system, in efforts to ensure our readers only receive the best information. To submit your questions or ideas, or to simply learn more about CareerTrend, contact us [here](http://careertrend.com/about-us).