How to Get a Divorce in North Carolina Without a Lawyer
By Editorial Team
Updated March 18, 2019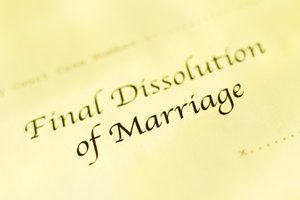 Stockbyte/Stockbyte/Getty Images
Obtaining a divorce without a lawyer in North Carolina is a fairly simple process, provided you have the patience to deal with some very precise rules about how, when and where to file. If you're willing to learn, you can save a substantial amount of money by moving through the system without an attorney by your side.
Requirements to Meet Before You File
If you're seeking a divorce in North Carolina, either you or your spouse must have lived in the state for at least six months. You must also physically separate from your spouse for one year before you can file for divorce.
If you've got assets to argue over, child custody concerns or desire spousal support after the divorce, it's generally recommended that you seek the counsel of an attorney. These issues should be resolved before you file for divorce. Once a divorce is granted, there's really no going back, according to North Carolina law. Thus, you may lose rights you weren't aware you had.
Completing the Forms
The process starts with filling out a Domestic Civil Action Cover Sheet, a civil summons and a Complaint for Absolute Divorce. Not all forms are available at the courthouse. However, Legal Aid of North Carolina makes the process easy by offering a complete set of all the necessary forms available for print in a "Do It Yourself Divorce Packet."
Some Forms Will Need to be Notarized
Read all of the instructions carefully, because some forms must be notarized. Many banks, libraries and accountants offer Notary Public services for a minimal fee. Plan to make copies of all the forms once you've completed them. You'll need the originals for the court, one set of copies for your spouse and a set of copies for yourself.
Filing the Forms
Your next step is to file the forms with your county's Clerk of Court office. Fees are due at the time you file and vary according to jurisdiction. You can call the court to find out the costs. If you cannot afford the fees, you may qualify to have them reduced or waived completely by filing a Petition to Sue/Appeal as an Indigent.
Serving the Forms on Your Spouse
The sheriff's department will deliver or "serve" a copy of the paperwork to your spouse for an additional fee. North Carolina law does not allow you to deliver it yourself. After your spouse is served, you must wait 30 days before proceeding with your case.
Scheduling a Court Appearance
Once that date has passed, you'll return to the court clerk's office with a Notice of Hearing form. The clerk will schedule the date and time of your appearance before the judge. You must then serve your spouse a copy of the completed Notice of Hearing form at least 10 days before the hearing. You can send this form to your spouse by mail or have it served by the sheriff's department.
Attending the Hearing
On the day of the hearing, you'll need to bring along two copies of a Judgment of Absolute Divorce and Certificate of Absolute Divorce. Neither of these forms is available at the court, but both are included in the Do It Yourself Divorce Packet compiled by Legal Aid of North Carolina. The judge will have a few questions for you regarding your marriage and separation, and then sign the divorce documents to dissolve your marriage.
Legal Aid Clinic
Legal Aid of North Carolina offers free clinics to individuals who wish to file for a divorce without an attorney. These clinics take place several times a year in various counties throughout the state. Registration forms and further information are available on its website.
References
Tips
Though you are not required to hire legal representation for your divorce case, North Carolina Legal Aid recommends that you consult with a lawyer if your divorce includes legal issues such as alimony, child custody and visitation, child support or a variety of property which requires division between yourself and your spouse. You may qualify for a free or low-cost attorney from a legal-services provider such as North Carolina Legal Aid or another organization listed by lawhelp.org, if you meet certain criteria such as income level.
Warnings
You should speak with a lawyer before signing any forms or agreements in your divorce case if you have any questions regarding your rights under North Carolina law; you could lose your rights or create long-term financial or legal consequences if you proceed in a divorce without fully understanding your case.
Writer Bio
This article was written by the CareerTrend team, copy edited and fact checked through a multi-point auditing system, in efforts to ensure our readers only receive the best information. To submit your questions or ideas, or to simply learn more about CareerTrend, contact us [here](http://careertrend.com/about-us).