What Documents Do I Need if I Married a Foreigner?
By Tasos Vossos
Obtaining a marriage licence to marry with a foreign citizen is not a straightforward process, as you have to collect a number of document to prove your marriage is bona fide. This happens to prevent cases of sham marriages, where foreigners and U.S. citizens agree to wed so that the former can skip the standard permanent residence requirements. The necessary documents are proof of identity, confirmation of your marital status, blood test results and travel documents for your partner if he resides abroad.
Identification
FreezeFrameStudio/iStock/Getty Images
An identification is the most important document to present to the authorities, either in the United States or abroad, to obtain a marriage license. Your and your foreign spouse's picture ID (driving licence or passport) is universally required around the U.S. to apply for a licence, while individual states have additional requirements. Connecticut, for example, also asks for your Social Security number, your mothers' maiden name, your parents' birthplaces, date and location of your wedding, as well as the name and contact info of your wedding officiant. Check the "U.S. Marriage Laws" website for details on each state's and county's requirements.
End of Previous Marriage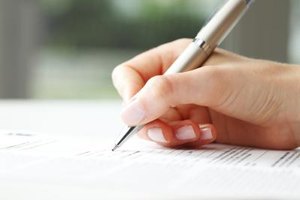 Szepy/iStock/Getty Images
You must prove you are eligible to get married — that is, being single, divorced or a widow, and the same applies for your foreign spouse. Proof of divorce or death certificate of your previous spouse are required. If you intend to get married abroad, you may also need an affidavit of eligibility to marry, as suggested by the Bureau of Consular Affairs. You cannot acquire this document in the United States, but if foreign authorities ask for it, the U.S. diplomatic missions can issue you one.
Blood Tests
Tan Wei Ming/iStock/Getty Images
A number of states — Montana, Indiana and Connecticut, for instance — require blood tests from the soon-to-be couple. The authorities where you apply for a marriage licence can help you locate certified health centers. You must present the document of the test results to the authorities. Foreign spouses who reside in the United States have to go through the examinations, too, while if your spouse-to-be has arrived in the country on a K-1 fiance(e) visa, he has already had blood tests as part of the medical examination required to be issued the visa.
Travel Documents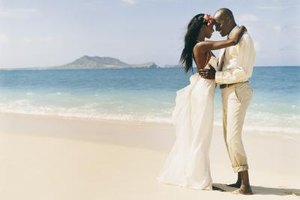 Digital Vision./Digital Vision/Getty Images
If your future spouse does not reside in the United States, and you want to get married close to your friends and family, your partner needs a non-immigrant fiance(e) visa (K-1). For this visa you need to sponsor your partner by completing the Form I-129F, Petition for Alien Fiance(e), as well as fill in an affidavit of support, if you intend to cover her financial needs in the country. If you have already been married abroad, you must follow the procedure for your foreign spouse to acquire an immigrant spousal visa (IR1 or CR1) or a temporary K-3 visa to shorten the physical separation between you.
References
Resources
Writer Bio
Tasos Vossos has been a professional journalist since 2008. He has previously worked as a staff writer for "Eleftheros Tipos," a leading newspaper of Greece, and is currently a London-based sports reporter for Perform Sports Media in the United Kingdom. He holds a Bachelor of Arts in communication and media from the University of Athens.