How to Find out if My Divorce Is Final in Sacramento, California?
By Editorial Team
Updated May 21, 2019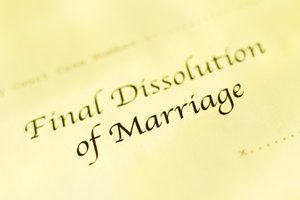 Stockbyte/Stockbyte/Getty Images
Divorce can be a long-drawn-out and often confusing process. By the end, you may be left wondering, "how do I know when my divorce is final?" If you are in Sacramento, California, a divorce is final only when the court enters a final judgment in your case. In Sacramento, you're required to submit all the necessary paperwork to the court and serve your spouse with the documents before a judgment will be entered either by default, by written agreement or by trial.
You'll receive a final judgment, usually by mail, from the court when the divorce is complete. If you don't receive the judgment, your divorce is not final. Failure to receive a judgment can mean that something hasn't been completed in your case. It's up to you to find out exactly what still needs to be done to make your divorce final.
Ensure You've Surpassed the Waiting Period
In California, a married couple must wait for at least six months after completing the divorce paperwork and procedures before a divorce can be issued through a judgment of dissolution. This cooling-off period cannot be shortened or waived, so the minimum time frame between filing divorce papers and receiving a final judgment is six months and one day.
Note, however, that a marriage or domestic partnership is not automatically dissolved after six months. In most cases, you must take additional steps before your divorce is final.
How to Obtain a Divorce Judgment in Sacramento
Once the six-month waiting period has lapsed, you must complete your dissolution process in order to obtain a final judgment. The steps to finalizing the divorce depend on how you and your spouse have handled the proceedings. Most commonly, divorces are finalized in one of three ways:
By default if one party did not respond to the divorce petition. The petitioning party must file a Request to Enter Default and either attend a hearing or prepare a declaration of dissolution.
By written agreement if both parties agree on all issues. They can prepare a proposed judgment for the judge to sign, and it is then up to the court whether to enter the final judgment.
By trial if the parties do not agree to the terms of the divorce.
After completing all the required steps, your divorce is officially final when the court enters a written judgment.
How Do I Find Out if My Divorce Is Final?
Even if it has been more than six months, and you believe you have taken all the necessary steps to receive a final judgment, you will still want proof of the written judgment from the court. So, how can you find out if your divorce is final? The best way to get a definitive answer is to check your case file.
You can get a copy of your divorce case file either online, by mail or in person. To get a copy of your case file online, use the Sacramento Superior Court's Public Case Access System. To request a copy by mail, complete a Request for Copies of Family Law Records form, available on the Sacramento Superior Court website and send to:
William R. Ridgeway Family Relations Courthouse
3341 Power Inn Road
Sacramento, CA 95826
To obtain your case file in person, go to the William R. Ridgeway Family Relations Courthouse, Room 100, and ask for a copy of your file. Look in the file for the Notice of Entry of Judgment. If it's not there, you're not divorced and you probably still have to submit or correct certain documents.
If the Notice of Entry of Judgment is in your case file, look for the effective date of termination. If the date has passed, you're divorced. If it's a future date, you'll have to wait for that date for your marriage to be legally dissolved.
If you don't have a Notice of Entry of Judgment and you can't figure out why, you might need the help of a lawyer.
References
Tips
If you do not have a Notice of Entry of Judgment and cannot figure out why, you may need to consult a lawyer.
Writer Bio
This article was written by the CareerTrend team, copy edited and fact checked through a multi-point auditing system, in efforts to ensure our readers only receive the best information. To submit your questions or ideas, or to simply learn more about CareerTrend, contact us [here](http://careertrend.com/about-us).