California Laws About Bedrooms for Kids
By Claire Gillespie
Updated December 14, 2018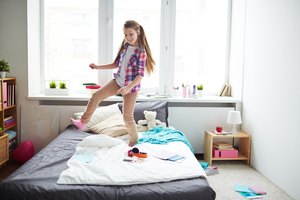 shironosov/iStock/GettyImages
In California, there are no hard-and-fast rules about kids' bedrooms. In fact, across the United States, no federal or state laws dictate how many children can share a room or whether children of opposite sexes can share a room. In your own home with your biological or adopted children, bedroom-sharing arrangements are entirely up to you and your kids – whenever you consider them old enough to have a say. However, California does regulate sleeping arrangements for foster kids, which you should be aware of if you plan to become a caregiver.
Definition of a Bedroom
A bedroom is widely accepted to be a room created primarily for sleeping. The 2011 California Building Code refers to a bedroom as both a sleeping unit and a sleeping accommodation, and further defines this as a room or space in which people sleep. The room can also include permanent provisions for living, eating and either bathroom or kitchen facilities, but not both. Additionally, the Code provides a series of requirements for bedrooms, which are likely to apply only to new buildings and renovations as many older properties were built before the code was passed. The net floor area must be no less than 70 square feet and the ceiling height must be no less than 7 feet 6 inches. There must be a heating system capable of maintaining a minimum indoor temperature of 68 degrees Fahrenheit at a level of 3 feet above the floor, and the room must allow natural light equal to a minimum of 8 percent of the floor area of the room. A closet is not required to qualify a room as a bedroom in California.
Children in Rental Accommodations
To prevent overcrowding of rental units, California adopted the Uniform Housing Code's occupancy requirements, which provides that any room used for sleeping must increase the minimum floor area by 50 square feet for each occupant in excess of two, but occupancy restrictions should not be confused with bedroom-sharing restrictions. A landlord who tries to enforce bedroom-sharing restrictions may be violating California's Fair Employment and Housing Act, which bans discrimination based on familial status. So if you are renting, your landlord has no right to tell you what room your kids can sleep in, provided you're not violating occupancy requirements. As the parent or guardian, it's up to you to make bedroom-sharing decisions.
Children in Foster Care
Detailed requirements apply to bedrooms for children who are placed in foster care, whether they live with a relative or a non-relative caregiver. The Checklist of Health and Safety Standards for Approval of Family Caregiver Home sets out these requirements, which prohibit more than two children from sharing a bedroom, prohibit sharing a bedroom by children of the opposite sex unless each child is under 5, and prohibit an adult and a child from sharing a bedroom unless the child is an infant. Additionally, no more than two infants and no more than two adults may share the same bedroom. Standards also have to be met in terms of the equipment in the bedroom, for example, each child must have their own bed with clean linens, a pillow, blankets and a mattress in good repair. Each infant must have a safe, sturdy bassinet or crib that is both age- and size-appropriate.
References
Writer Bio
Claire Gillespie writes about health, science, home and parenting. She has bylines on SELF, SheKnows, The Washington Post, Vice and more.