How to Copy a Divorce Decree From Ohio for Free
By Jessica McFall
Updated July 20, 2017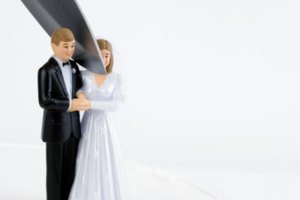 Polka Dot/Polka Dot/Getty Images
A divorce decree is a formal order from a judge or magistrate ordering termination of a marriage. In Ohio, the law requires all divorce decrees be signed by a judge or magistrate if the case went to trial. The Ohio Department of Vital Statistics does not keep copies of actual divorce decrees only abstracts which contain very little information. In Ohio, divorce decree records are initially maintained at the Common Pleas clerk of court's office. All Ohio counties charge for certified copies of the decree but will provide you access to your file so you can make your own copies.
Call your attorney and ask for a copy of the divorce decree. Attorneys for both sides would usually have a copy of the transcript as part of their records. The attorney should not charge you for this record as a copy is usually included as part of the fee.
Go to the clerk's office at the Common Pleas court that heard your divorce case. The clerk's office will generally have a hard copy file which will have an original copy of the certified divorce decree. Ask the clerk for your file and take the file to a copy machine and make a copy. This is not a certified copy, which in some counties, cost as much as $3 as of 2011.
Check to see if the appeals court has a copy of your file and decree. In Ohio, when a civil case is appealed, the file is sent to the appropriate Ohio Court of Appeals for that region. In Cleveland, which is part of Cuyahoga County, not only are appealed case files stored at the appeals courthouse but all common pleas files are stored there after three years. This means that after three years your divorce record will be stored there at the appeals court in physical form or on microfiche. Take your file to a copy machine in the building an make a copy. If the file is on microfiche there is, as of 2011, a 10 cent per page charge for printing.
References
Writer Bio
Jessica McFall began writing professionally in 2011. She has authored legal briefs as a paralegal, specializing in insurance law and related litigation. McFall earned a Bachelor of Arts in political science from Cleveland State University.