How to Take Visitation Rights Away From a Parent
By Maria Lassen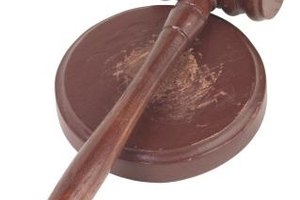 Hemera Technologies/PhotoObjects.net/Getty Images
Parents who are separated or divorced are entitled to reasonable visitation with their children. There are instances when a child should not be allowed to go with his non-custodial parent who has not been granted the care of the child. In severe cases, a family court can revoke visitations rights. The court may revoke visitation if it finds that a child may be physically endangered by the non-custodial parent's environment or if visitation is detrimental to the child's mental or emotional well- being.
Getting started
Step 1
Petition the court to revoke visitation. You can call the clerk's office at the family court to ask where you can find a form. The clerk may offer a website where you can find the form or direct you to the office to pick it up.
Step 2
Complete the entire form. Enter your name, your child's name and both birth dates, and the other parent's name and birth date. Clearly state the reasons you wish to revoke visitation in plain, factual language without emotion. A reason may include alcohol or drug abuse by the other parent. Another reason: the other parent, or someone living with him, is believed to abuse or neglect your child during visitation.
File your petition with the clerk at the family court. A filing fee may be required. The clerk will file your paperwork and send a copy to the other parent. You will both be required to attend a hearing on the issue. Bring with you evidence of hospital reports, police reports, witnesses, and any other evidence to support your allegations. Be factual and specific with dates and times. Expect questions and anticipate how you will respond.
References
Resources
Tips
The mere fact you do not get along with the other parent is not a substantial reason for the court to take away visitation rights.
Warnings
You must go through the court to take visitation rights away from the other parent. You could be held in contempt of court if you refuse visitation without a court order.
The court will only revoke visitation in severe cases. It may also grant supervised visitation with conditions and limits. This includes requiring another adult to be present during your child's visit with the non-custodial parent.
Many parents represent themselves in family court visitation cases. In complex cases, you may consult an attorney.
Writer Bio
Maria Lassen has many years experience in the legal field. She was a practicing hair and nail technician for 10 years and has been a freelance writer since 2010. Lassen studied creative writing at Bowling Green State University and holds a certificate in paralegal studies.