Legal Forms for Adoption in Texas
By Dan Ketchum
Updated August 13, 2018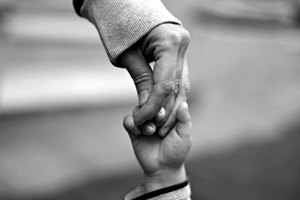 Lejla Siljak / EyeEm/EyeEm/GettyImages
If you're looking to adopt in the state of Texas, you're not alone – not by a long shot. In 2017, new families adopted more than 5,000 children from the Texas Department of Family and Protective Services. Around the same time, however, the Texas DFPS was still responsible for over 6,000 kids awaiting adoption.
Texans willing to make that number a little smaller will be relieved to know that, according to 2017 data from Statistic Brain and Adoption Choices of Texas, 56 percent of foster parents in the U.S. were able to adopt without cost, while 29 percent only paid between $1,000 and $5,000. Those figures may be relatively low, but the amount of paperwork required to adopt in the Lone Star state is anything but.
But, how much does it cost to get adoption papers? Thankfully, adoption paperwork in Texas is just as free as a parent's love.
Adoption Requirements in Texas
Before even taking a look at the paperwork, it's important for potential adoptive parents to know the answer to a basic question: What are the requirements for adopting a child in Texas?
The state's DFPS puts it pretty plainly: "To become a foster and/or adoptive parent, you do not have to own your own home, be married, or be rich. You do have to be able to provide a child with a safe, nurturing, and stable environment; meet background check requirements; be financially stable; complete an application; attend pre-service training on caring for child in CPS (Child Protective Services) care; participate in a home study; and meet other requirements applicable to the type of care you want to provide."
The first step on this long but fulfilling road is to attend an Informational Meeting in your county – the DFPS hosts these in or near just about every county in Texas, from Anderson to Zavala. At this meeting, you'll encounter the first form in a long trail of paperwork: the application. Like the majority of forms involved in the Texan adoption process, you can access and download copies online at no cost via the DFPS' official website.
Foster Care and Adoption Parenting Application
The most fundamental of adoption documents in Texas is Form K-902-2286, the Foster Care and Adoption Parenting Application from Child Protective Services, which gathers basic personal and demographic information about potential adoptive parents. The DFPS uses this info during the home assessment portion of the adoption process.
It all starts with basic family information, like contact info and school district. As for demographic info, the form requests gender, Social Security number, driver's license number, ethnic background, spoken languages, place of birth, length of Texas citizenship, highest level of education completed and United States Citizenship status. Applicants also need to provide marital info – including previous and current spouses, dates of marriage and place of marriage, if applicable – as well as basic details and Social Security numbers for all members of their household.
Under the "Interests: Types of Children" section, you'll need to specify the types of children for which you're interested in providing foster care services. This includes how many children you're interested in adopting, plus their sex, age range and ethnicity.
Finally, the form calls for employment information. The employment section requires the applicant or applicants to provide details regarding their occupation, employer, employer contact, dates of employment, daily work schedule and weekly work schedule.
Before signing the form, potential foster parents must check boxes to verify whether or not they've ever been convicted of a felony criminal offense, are under indictment in an official criminal complaint or have ever been investigated for abuse or neglect in Texas or any other state. Signatories also acknowledge that the DFPS will complete numerous types of background checks on all persons who apply to become foster or adoptive parents, as well as on certain household members or other individuals who may be present in the adoptive home. These background checks include a criminal history check from the Texas Department of Public Safety, a fingerprint-based check of records from the FBI's National Crime Database, a scan of the DFPS's own database for abuse or neglect, an out of state registry check with other child protective services divisions and a local law enforcement service call check.
Additional Adoption Paperwork in Texas
In most cases, the Foster Care and Adoption Parenting Application is the beginning of a mountain of paperwork. Though every case is different, those interested in fostering or adopting in Texas are liable to encounter about a dozen different types of legal forms from the Department of Family and Protective Services.
The Adoption Plan form goes into greater detail regarding the individual needs of children in DFPS adoptive placement programs. This document allows DFPS staff to go in-depth about the appropriateness of potential adoptive or foster homes, as well as the child's personal needs and progress. The latter information, covered under Section D on the form, includes permanency efforts, medical and dental needs, and developmental and educational recommendations, as well as needs and recommendations for the child's well-being in social, emotional, psychological, religious, community, recreational and mental health areas. It also identifies planning needs for high-risk behaviors. Upon completion, this form is to be provided to the adoptive parents.
Not all adoption forms are the domain of potential adoptive families. Child custody evaluators and adoption evaluators may use Form F-5-5-4882, Request from Child Custody Evaluator or Adoption Evaluator for Case records, to request a copy of a closed investigation from Adult Protective Services, Child Care Licensing or Child Protective Services.
The Release of Information to Adoption Champion, Form K-908-3015, authorizes an individual to act as an Adoption Champion for a child under DFPS care. This means that the person will advocate for the child and assist the DFPS in identifying a potential permanent home. This short form authorizes the Champion to receive previous paperwork, court reports, psychological and developmental evaluations, family history, educational performance records and other communication with the child's service providers.
ICPC Paperwork
The state of Texas may span nearly 268,600 square miles – they say everything's bigger in Texas, after all – but adoption doesn't stop at its borders. That's where the Interstate Compact on the Placement of Children comes in.
Established in the 1960s and codified in both the Texas Family Code and the Texas Administrative Code, this compact helps encourage safe and stable placements of adopted and foster children across state lines. So, if you're a Texas resident adopting a child from another state or an out-of-state resident adopting a child from Texas, you'll need the ICPC's approval. When it comes to the paperwork side of adoption and fostering, Texas state law requires that adoption petitions and petitions for managing conservatorship filed with the DFPS include a verified allegation of compliance with the ICPC or a statement of reason for noncompliance.
For help with these forms, contact the Texas ICPC specialists and administrative assistants at the Texas Department of Family and Protective Services – the DFPS lists its current email addresses and phone numbers on its official website.
Texas Adoption Resource Exchange
Offered by the Texas Department of Family and Protective Services, the Texas Adoption Resource Exchange, or TARE, is a free-to-use online tool that helps match kids under DFPS care with potential homes. Texans interested in adopting or fostering create a profile with TARE and complete with basic info and adoption preferences, such as child characteristics, family skills and willingness to parent a child with a disability. The DFPS uses this info to make potential matches, while TARE users can also log in to view online profiles of children available for adoption or to get status updates on adoption inquiries made with the DFPS.
TARE forms are filled out and submitted entirely online at the DFPS' official TARE website, starting with the "Create an Account" form. This form requires the creation of unique login information, as well as basic online and physical contact information.
In addition to helping match foster families with children, the TARE website provides plentiful resources for potential adoptive parents, including a full breakdown of the adoption process, lists of current adoption-related events and meetings throughout the state, lists of Texas-based private adoption agencies, and the ability to search a constantly updated database of children waiting to be adopted.
Texas DSHS Forms
While DFPS (including TARE) and ICPC forms help along the adoption process from both the foster caregiver and potential parenting end, the Texas Department of State Health Services (DSHS) also provides a variety of adoption forms. These forms typically verify the legality of the adoption or help interested parties acquire records regarding fostered children.
Form VS 160, the Certificate of Adoption, is mostly for use by attorneys and district clerks. Completion of this form, which becomes a state permanent record upon filing with the DSHS in Austin, allows the modification of an adoptee's original birth certificate to list his or her adoptive parents. Alongside thorough information regarding birth records – including time of birth, name of hospital and information about both biological and adoptive parents – this form requires a total fee of $62, as of 2018 rates. It also includes an order form for birth certificate copies.
Form VS 143, Request for Identity of Court of Adoption, is filed to the DSHS' Texas Vital Records department, where it requests the disclosure of the identity of an adopted child and her adoptive parents. To complete this form, you'll need a photocopy of a valid ID and a $10 application fee. Similarly, the Texas Voluntary Adoption Registry Registration Application from the DSHS allows adoptees to track down copies of adoption records from adoption agency files and Vital Statistics. In addition to a valid ID copy and a total of $40 worth of fees, this thorough form requests basic contact info alongside detailed information about the circumstances of the adoption. The form's five lengthy sections request information including (but certainly not limited to) the names of the adoptive parents, the agency and approximate date of adoption, and whether or not child protective services was involved in the adoption process.
This even gets into the nitty-gritty of religious affiliations of both sets of parents, the identity of delivering doctors and the adoptee's biological mother's marital status at the time of birth. Via a detailed breakdown of information, adoptees and the birth-siblings of adoptees (for which the form has a whole section) can access key information about their personal or family history, courtesy of the state of Texas. As is the case with most Texas adoption forms, the Voluntary Adoption Registry Registration Application is also available in Spanish. Similarly, the Request for Open Records form from the Central Adoption Agency, Form VS-210, requests access to social and medical information from private adoptions, including those facilitated by child-placing agencies that are no longer in operation.
References
Writer Bio
Dan Ketchum has been a professional writer since 2003, with work appearing online and offline in Word Riot, Bazooka Magazine, Anemone Sidecar, Trails and more. Dan's diverse professional background spans from costume design and screenwriting to mixology, manual labor and video game industry publicity.