How to Write a Temporary Custody Letter
By Teo Spengler
Updated December 02, 2019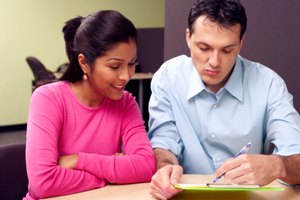 Creatas/Creatas/Getty Images
Child custody is one of the most emotional and hotly disputed issues in a divorce. Although termed "parenting time" in many courts, it essentially defines where the kids will live most of the time.
A judge doesn't make long-term custody decisions until the end of the divorce case, after both sides have had their say and presented their evidence to the court. Still, most divorcing spouses opt to live apart, and the children have to live with one or the other in the meantime. That is termed "temporary custody," and this court ruling often impacts the award of permanent custody.
Why Temporary Custody Is Important
In a dissolution or divorce action, every part of a couple's life together must be divided into two. That includes property, debts and custody of any minor children. Since a divorce can take quite a while to move from petition through final decree, the court must make temporary orders to provide a place to live and support for all members of the family during the interim.
To that end, a court issues temporary support and custody orders at the beginning of the case, to be replaced by final orders at the end of the case. While temporary custody orders extend only for the life of the divorce case, they are quite important and may influence the final custody order.
Most courts base final custody decisions on the best interests of the children, which includes attempting to avoid disruption to a child's life. One type of disruption is moving the child from one home to another without a good reason. That's why whichever parent is granted temporary custody at the beginning of a divorce action is more likely to be awarded custody at the end.
Factors Affecting Temporary Custody Determination
In most states, a divorcing spouse can request temporary child support and temporary child custody orders at any appropriate time. The spouse who files for divorce often files requests for temporary custody along with the divorce petition.
Courts encourage divorcing spouses to negotiate the terms of any temporary support or custody orders. This can be done out of court or in mandatory mediation proceedings. But if an amicable agreement is not reached, the court decides temporary custody based on factors including:
The abilities of each parent to provide for the children's needs.
The relationship of each parent with the children.
The physical and mental health of the children and the parents.

The established home of the children, where they attend school and their bonds with the community.

The probable effects on the children if their current circumstances are changed by court order.

Offering Testimony Regarding Temporary Custody
A parent involved in a battle for temporary custody of children during a divorce case may ask people who know the family to step up and offer testimony. This testimony may be in written form, in a letter or affidavit, or it can be live testimony in court.
In every case, a person intending to offer testimony in a temporary custody matter needs to keep focused and be honest. If he addresses the court via affidavit or in person, he will be testifying under oath and swearing that he is telling the truth. But even fabricating facts in an unsworn letter to the court can lead to legal consequences.
A witness in a temporary custody matter should limit testimony to matters within his personal knowledge. He can testify as to interactions between family members that he has seen occur, conversations he has had with either of the divorcing parents or the children, conversations he has personally overheard, as well as his personal observations about the relationship of each parent with the children. A witness must avoid repeating rumors or stories heard from third parties, since this is hearsay and not admissible in court.
References
Writer Bio
From Alaska to California, from France's Basque Country to Mexico's Pacific Coast, Teo Spengler has dug the soil, planted seeds and helped trees, flowers and veggies thrive. World traveler, professional writer and consummate gardener, Spengler earned a BA from U.C. Santa Cruz, a law degree from Berkeley's Boalt Hall, and an MA and MFA from San Francisco State. She currently divides her life between San Francisco and southwestern France.