What States Allow People to Access Adoption Records
By Marie Murdock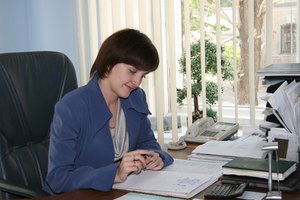 The business woman image by YURY MARYUNIN from Fotolia.com
Adoption records are considered private information and are sealed to the general public in most states in the United States. State laws vary as to what information may be released to adoptive families, adult adoptees, and birth parents or other interested parties. Some people involved in an adoption may wish to always remain anonymous, while others who have placed a child for adoption may sign a consent form allowing that child to access their information upon attaining the age of majority. In the states that allow adult adoptees complete access to their pre-adoption birth records, some also provide a form on which a birth parent named on the birth certificate can indicate whether or not she prefers to be contacted by the adoptee.
Non-Identifying Information
Although the method by which information may be accessed varies, all 50 states allow adoptive parents and/or their adopted children to obtain non-identifying information. Non-identifying information includes date, place and reasons for adoption, a general physical description of birth parents, including hair and eye color, education level and occupation at the time of the adoption, and whether or not other siblings have been born to the birth parents. According to "Access to Adoption Records: Summary of State Laws" published by the U.S. Child Welfare Information Gateway, as of June 2009, only 28 states allow birth parents access to non-identifying information about their child's adoptive family. Of those 28 states, only 15 allow adult siblings to access this information. New York, Oklahoma and Rhode Island require adoptees seeking non-identifying information to register with the state's adoption registry, while Pennsylvania requires that the requesting party petition the court before non-identifying information may be released.
Identifying Information with Consent or by Court Order
Identifying information is information that provides the name of the birth parent, adopted individual, or adoptive family and therefore may allow the person obtaining this information to locate the parties to the adoption. As of June 2009, nearly all states approve release of this information so long as all parties have consented to its release. Absent of consent, however, most states only allow release of this information by court order. Courts will ordinarily only consider release when there is clear and convincing evidence that the need to know outweighs the need for confidentiality. One example of this need is a serious medical condition that requires a genetic link for treatment. Arkansas, Mississippi, South Carolina and Connecticut all require that the adoptee undergo counseling regarding the impact of the information on his or her life. Connecticut further reserves the right to refuse to release the information if the state determines that its release would be too disruptive to the lives of those involved.
Mutual Consent Registries
Mutual consent registries have been formed in a majority of the states, allowing the parties to an adoption to register their consent to have the information on an adoption record disclosed. Affidavits by all parties requesting the information are usually required. As of June 2009, however, eight states, including Hawaii, Indiana, Maryland and Michigan, will release the information from the registry without an affidavit unless one of the parties has filed a non-consent form with the registry objecting to the disclosure.
Access to Pre-Adoption Birth Certificates
When an adoption occurs, a new birth certificate is issued to the adoptive parents while the original birth certificate is sealed by the state's vital records department. Although many states still require a court order for interested parties to obtain a sealed birth certificate, laws have passed since 1998 in some states, such as Alabama, Maine, New Hampshire and Oregon, allowing release of the original birth certificate to an adult adoptee upon request and payment of the standard fee for birth certificates in that state. In some of these states, birth parents have the option to indicate whether they do or do not want to be contacted by the adoptee; Oregon supplies a form by which a birth parent can offer family medical history to the adoptee after indicating she prefers not to be contacted (see Resources). The states of Kansas and Alaska also allow individuals who were adopted to access their pre-adoption birth certificate, while the state of Tennessee allows most adult adoptees this access. Other states, such as Massachusetts, allow some adoptees to access their original birth certificates based on the year when they were born. Individuals adopted in Massachusetts may access their pre-adoption birth record if they were born before July 14, 1974 (see Resources).

Read More: Divorce & Adoption
References
Resources
Writer Bio
Marie Murdock has been employed in the legal and title insurance industries for over 25 years. Murdock was first published in print in 1979 and has been writing online articles since mid-2010. Her articles have appeared on LegalZoom and various other websites.