How to Write a Permission Slip/Release of Liability Form for Minors
By Wayne Thomas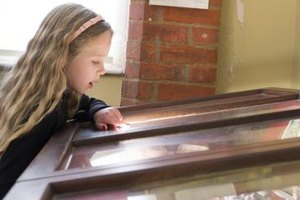 Mypurgatoryyears/iStock/Getty Images
Many students consider field trips the best part of their education, but they have to get permission. By law, many of these activities require parental consent and can carry inherent risks to the child's safety. Knowing how to properly draft a permission slip and release of liability form will help protect you from a lawsuit if a child under your supervision is injured.
Permission Slips
Permission slips are often required by law before a child may participate in an activity or be taken off school grounds, such as on a field trip. School districts often have regulations in place that specify how the form must be worded, and organizations often have fill-in-the blank slips that are routinely used. If you are drafting a slip from scratch, you should clearly identify the activity or trip, the date and time it will take place, and who will be transporting the children. The slip should contain a signature line for the parent at the bottom of the form.
Release of Liability
As part of your permission slip, you may want to include a release of liability. Releases protect your organization and staff from lawsuits filed by parents for injuries caused while a child is under your supervision. To provide the greatest level of protection, the release should first describe all of the foreseeable risks associated with the activity as clearly as possible. This is so the parents can give "informed" consent and prevents a later claim that they did not realize what the activity involved. For example, if you operate a whitewater rafting company, your minor release should contain a detailed section stating that the parent understands that being outdoors and near or in moving water can lead to serious injury or death. Your form should also require the parent to certify that the child is healthy and has no limitations or disabilities.
Negligence
A properly drafted permission slip and release may also contain a section limiting liability for negligence. Negligence claims involve more than just an accident and apply in cases where you or someone supervising the children failed to act reasonably under the circumstances. An example might be if a football coach fails to consult a medical professional before sending a child complaining of chest pain back into a game and causing serious injury. However, limits on negligence claims are not legal in every situation and in every state. In Washington, for example, school district releases for negligence are not enforceable as a matter of public policy. For this reason, you may wish to consult an attorney before including a negligence clause in your release.
Gross Negligence
In most states, regardless of whether or not your activity involves a school district, you cannot release liability for gross negligence. This is something more extreme than ordinary negligence. An example might be if a swimming instructor forced a child into a deep part of the pool and left him unattended knowing that he could not swim, and the child drowned. In addition, if you are unsure about the law and use vague language to limit liability, such as stating that the release protects against "every injury or damage arising out of the activity no matter how caused" a court is likely to find this statement over-broad and unenforceable. For that reason, you may wish to consult an attorney to find out what you can limit in terms of liability for negligence in your state and make sure that your release only covers you to the extent permissible by law.
References
Writer Bio
Wayne Thomas earned his J.D. from Penn State University and has been practicing law since 2008. He has experience writing about environmental topics, music and health, as well as legal issues. Since 2011, Thomas has also served as a contributing editor for the "Vermont Environmental Monitor."