How to File for Divorce in Galveston, Texas
By Andi Collins
Updated July 21, 2017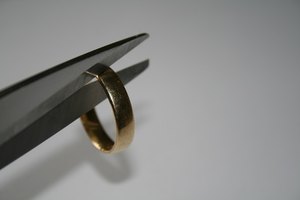 Filing divorce paperwork in Galveston, Texas is a relatively simple process. If you and your spouse are in agreement with all the divorce details, including division of property and child custody, you can file without the services of an attorney. To file for divorce in Galveston, you must have been a resident of Texas for a minimum of six months and a resident of Galveston County for a minimum of 90 days. Once you file the divorce paperwork, you must wait 60 days for your divorce to come before a judge.
Determine whether you'll need an attorney. If the divorce will be uncontested and all property division and child custody arrangements can be agreed on, an attorney isn't needed. If one party contests anything in the divorce, attorneys will need to be hired and they'll file for the paperwork for you.
Agree on all aspects of the divorce settlement. Determine the property division as well as all child support and custody issues. Make sure everything is clearly spelled out in writing. You might be amicable as you discuss and agree on the details, but to ensure neither of you changes your mind or "forgets" something, having written documentation is best.
Fill out an "Original Petition for Divorce." This can be obtained at the Galveston courthouse, which will also give you a "Waiver of Citation."
Give your spouse a copy of the paperwork and have him sign a "Waiver of Citation." This shows the court that your spouse agrees with the petition for divorce and doesn't need to be served with official paperwork from the courts. He'll also not have to be present at the court hearing.
File the "Original Petition for Divorce" and "Waiver of Citation" at the Galveston courthouse. You'll receive a court date for a hearing with a judge to finalize your divorce. Pay the filing fee at this time. As of January 2011, this fee is from $200 to $250, depending on your circumstance, such as having minor children.
Attend the court hearing to finalize your divorce. Answer any questions the judge asks you and he'll approve the divorce. Obtain a copy of your final divorce decree with the judge's signature.
Warnings
Be sure you agree with everything in the divorce petition before signing and filing the paperwork.
References
Resources
Writer Bio
Andi Collins has been writing various travel and health articles since 2007. She holds a Bachelor of Arts in psychology and is currently pursuing a Bachelor of Arts in Homeland Security. She has an extensive medical background, working as a nurse in family practice, labor and delivery and pediatric cardiology.