How to Retrieve Court-Martial Records
By Wayne Thomas
Updated March 18, 2019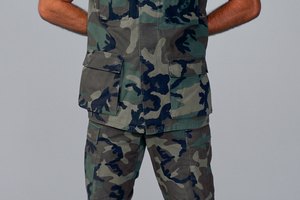 When members of the armed services are accused of violating military rules, they may be court-martialed. A court-martial proceeding operates similarly to a normal criminal court proceeding and is meant to discipline officers found guilty of wrongdoing. If a service member has been court-martialed, information related to the indictment and the disposition of the case becomes part of his personnel file and can be accessed by members of the public under the federal Freedom of Information Act (FOIA).
Freedom of Information Act Overview
The federal Freedom of Information Act allows members of the public to access military personnel information without the need to obtain prior authorization from either the service member or his next-of-kin. The type of information you can obtain as part of the officer's file includes his dates of service, branch of service, salary, and military education level. The file will also include transcripts of any court-martial proceedings. Some information, such as national security secrets, are exempt from the FOIA and will be redacted from any records you receive.
National Personnel Records Center
To obtain information related to a court-martial proceeding that you were the subject of, the easiest method would be to contact the attorney that assisted you or represented you during the proceeding. If the attorney no longer has the records or cannot be located, or you were not the subject of the court-martial, you can mail or fax a request form to the National Personnel Records Center in St. Louis, Missouri. Use Form SF 180, which you can download from the NPRC website.
Drafting the Form
Form SF 180 requires you to supply as much information as you can about the person, including his name, branch of service and whether he is retired or deceased. You must then indicate what documents you are requesting. The request can be as broad as the entire personnel file, or you may note that you are interested only in information and transcripts related to a court-martial proceeding. You must also specify a reason why you are interested in the documents.
The form must be signed and you must provide an address for receiving the documents. If you are unable to obtain this form electronically, you may instead write a letter containing the same information as required in the form.
Typical Response Time
Once the form or letter is complete, mail it to National Personnel Records Center, 1 Archives Drive, St. Louis, MO 63138, or you may fax it to 314-801-9195. No fee is required. The turnaround time can vary, but the NPRC estimates that most requests are responded to within 10 days. However, in some cases it can take up to six months, and the agency suggests that you wait at least 90 days before following up.
References
Writer Bio
Wayne Thomas earned his J.D. from Penn State University and has been practicing law since 2008. He has experience writing about environmental topics, music and health, as well as legal issues. Since 2011, Thomas has also served as a contributing editor for the "Vermont Environmental Monitor."