Child Custody Laws for Unmarried Fathers in Oklahoma
By Kristen Marquette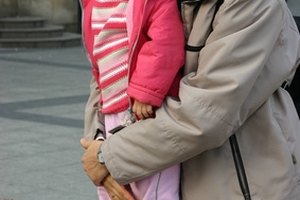 child and father image by Renata Osinska from Fotolia.com
In Oklahoma, the mother legally retains sole custody of any child born out of wedlock. This means that an unmarried father has no automatic custody rights to his child. However, once he establishes paternity of his child, he can then petition the Oklahoma courts for custody, visitation and child support rights.
Paternity
Before an unmarried father gains custody of his child, he must prove his paternity of that child. This can be done in two ways. Both the mother and father can sign an Affidavit Acknowledging Paternity at the time of birth of their child. Hospitals in Oklahoma are required to have this affidavit on hand, but the parents can also obtain it from the Oklahoma State Division of Vital Records, county health departments, the Department of Human Services and child support enforcement offices. If either parent questions the paternity of the child, genetic testing can be performed, either voluntarily or through court order. However, paternity alone does not give an unmarried father the right to custody or visitation.
Best Interest of the Child
Once the unmarried father establishes his paternity, he can petition the court for custody or visitation rights. Custody is awarded by determining the best interest of the child, not by the rights of the parents. To do this, the court considers certain factors: the capability of each parent to provide for the child; the moral standing of each parent, such as exposing the child to drug use or sexual encounters; the parent's willingness to foster the child's relationship with the other parent; any domestic abuse in either home; and the child's preference, if he is 12 years old or older. The courts do not allow race, gender, or schooling---private, public, home---to be considered when deciding custody.
Denial of Visitation
Once the court awards custody and visitation rights, the custodial parent---whether it's the mother or the father---cannot deny visitation rights to the noncustodial parent, even if the noncustodial parent refuses to pay child support. If the custodial parent refuses to allow the noncustodial parent to visit the child, the noncustodial parent must continue to pay child support, despite the lack of visitation. When visitation is denied or child support is not being paid, the parents must approach the court to settle the problem.
References
Resources
Writer Bio
Kristen Marquette has been a professional writer since 2009 when FireLight Books published her debut novel, "The Vampiric Housewife." Since 2000 she has helped students hone their written and verbal skills in English as a tutor. She has a Bachelor of Arts degree from Michigan State University.