Child Support Laws in Italy
By Nicholas Ramos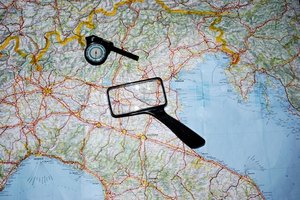 Divorce has only been legal in Italy since the 1970s. Divorce comes with many legal situations: dividing of finances, property, custody of children and the important issue of child support. Child support is not based solely on finances or abilities to visit and care for children; there are many stipulations considered in child support determinations. Having information on child support laws will help you understand some of the legal proceedings surrounding divorces in Italy.
Basic Information
Child support is allocated during both separations and divorces. The process is different from the United States, and in order to understand the laws surrounding child support you must understand separation and divorce proceedings.
Separation Laws
Separation in Italy comes in two forms, and child support varies depending on the separation type. Consensual separation occurs when both spouses agree to legally separate. They work out a mutual plan of custody, support and property division. The judge agrees to the separation. The judge determines contested separation. A judge sees who is at fault in the separation of the marriage. The judge will appoint a court employee to guide the couple through an amicable agreement of custody and child support divisions.
Divorce Laws
Divorce precedings are similar to separations but vary slightly in the Italian court system. Divorce can only come after legal separation, unless other circumstances apply, such as imprisonment or fleeing from the country. If one spouse leaves the country, a judge can grant a divorce. Divorce is only obtained after three years of legal separation has passed. A judge determines the custody of the children, and the judge will determine the amount of support the other spouse receives. The determination will depend on the financial status of the spouse, amount of custody received and the amount of family support surrounding the child.
Penalties and Additional Information
There are extenuating circumstances surrounding the divorces in Italy. Judges take in consideration the family surrounding the children. Italy traditionally has the lowest divorce rate in Europe, and most married couples live within several miles from grandparents and extended family. Child support is partially determined by family involvement. There is no fixed fee or percentage of child support allocated during procedures; it is based on variables of the family. Penalties for not paying child support range from imprisonment, fees or suspension of assets. Cultural stigmas of not paying child support are extremely severe in Italy and can also result in excommunication from nearby society.
References
Writer Bio
Nicholas Ramos was born in Washington, D.C. He is currently a journalism major in Georgia and plans to specialize in law. Ramos has been writing since 2009, specializing in fashion, travel and health.