How to File for a Divorce in Henry County, Georgia
By Marcelle Greene Edins J.D.
Updated July 20, 2017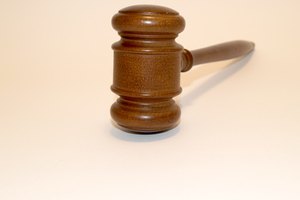 Initiating a divorce proceeding is a heart-wrenching choice for most families. The decision to represent yourself in a divorce should not be made lightly, and it is wise to consult with a family law attorney in the Henry County area regarding your situation. The procedures and laws regarding divorce are different in every state, and those who represent themselves in court are expected to be educated on both. Georgia has residency requirements that must be satisfied before a divorce petition is filed; the petitioner must be a bona fide Georgia resident for at least six months.
Visit a local law library or contact an online service from which the "Petition for Divorce" can be purchased or copied. Fill out the forms with all of the required information. The petition must be verified or notarized before it is filed with the Clerk of the Superior Court, located at:
Henry County Courthouse No. 1 Courthouse Square McDonough, GA 30253
Pay the filing fee for the divorce petition at the Office of the Clerk of the Superior Court. As of July 2010, the filing fee for petition for divorce is $206, and payment must be made by check, cash or money order.
Make arrangements with the Clerk of the Superior Court to have a copy of the filed petition for divorce served on your spouse by the Sheriff's Office in Henry County. As of July 2010, the Sheriff's Office charges $50 per copy served. If you do not wish to use the sheriff's services, look into having a private process server of your choice serve the divorce papers on your spouse. The return of service is an important piece of evidence in any lawsuit and it is worth a small expense to have it executed properly.
References
Writer Bio
Marcelle Greene Edins began writing in 1999 and has written for "Today's Builder" magazine and online for various websites. She is presently writing her first novel. She holds a bachelor's degree from the University of Texas at San Antonio and a J.D. from St. Mary's University School of Law.