How to File for Divorce in Lincoln County, Washington
By Teo Spengler
Updated March 18, 2019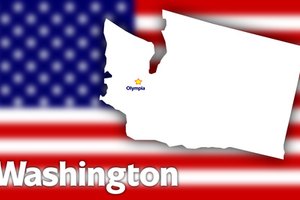 Washington state contour against blurred USA flag image by Stasys Eidiejus from <a href='http://www.fotolia.com'>Fotolia.com</a>
You can file a divorce a Petition for Dissolution in Lincoln County, Washington, by walking the papers into the courthouse or by mailing them. If your divorce is uncontested, you may not even have to show up.
Lincoln County Washington Divorce
Lincoln County, Washington, is located just west of Spokane. Davenport is the county seat of Lincoln County. The superior court is also located there, and that's where you would file for divorce in Lincoln County.
Two rules distinguishes Lincoln County from other counties in Washington when it comes to divorce. One involves the residency requirement while the other concerns filing methods.
In Washington, anyone is permitted to file for divorce as soon as he or she becomes a resident there. No waiting period is required. You can file in your own home county or in that of your spouse – or in Lincoln County. Lincoln County is the sole county that permits all Washington residents to file for divorce in its court.
Both spouses must consent to this, however, if neither live there. In addition, in some cases you can file for divorce in Lincoln County by mail. It is one of two counties that permit you to mail in a petition for dissolution.
Filing for Divorce in Lincoln County, Washington
Every divorce in Washington state is a no-fault divorce. The only permissible "grounds" for a divorce in Washington courts is that the marriage is irretrievably broken. You cannot try to assign blame, nor need you spell out the reasons the marriage broke down.
That makes filing for divorce much simpler. The basic document is the Petition for Dissolution of Marriage, asking the court to dissolve your marriage. Note that in Washington, it takes only one spouse to end a marriage. A court will grant a divorce even against the other spouse's wishes.
In Lincoln County, you'll need to file a summons, a confidential information form and a vital statistics form at the same time as the petition. You'll also need to pay a filing fee.
Methods of Filing for Divorce in Lincoln County
You can walk in and file your papers in Lincoln County's superior court in Davenport, or you can mail in your papers and fees.
Many different paralegal and attorney firms are available to assist you with this mail-in divorce service. If your divorce is uncontested, you do not even have to make an appearance.
If your divorce is contested, you definitely need to appear at one hearing and perhaps more than one, as in every other county in Washington. Generally, the more issues you and your spouse are unable to come to agreement on, the more documents you will need to file, and the longer your case will take.
Washington imposes a 90-day cooling-off period before granting a divorce. For uncontested, mail-in divorces that do not require an appearance, you can obtain a divorce in Lincoln County in just a little more than 90 days.
References
Writer Bio
From Alaska to California, from France's Basque Country to Mexico's Pacific Coast, Teo Spengler has dug the soil, planted seeds and helped trees, flowers and veggies thrive. World traveler, professional writer and consummate gardener, Spengler earned a BA from U.C. Santa Cruz, a law degree from Berkeley's Boalt Hall, and an MA and MFA from San Francisco State. She currently divides her life between San Francisco and southwestern France.