How to File a Grandparent Visitation Petition in Court
By Angela Reinholz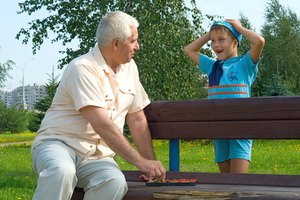 Family conflicts sometimes mean grandparents need to fight for the right to see their grandchildren. All 50 states have laws regarding grandparent visitation rights, although the particulars of the laws may differ. Grandparents seeking to fully enforce their visitation rights can file a petition to the family court in the county that the child lives in.
Step 1
Seek mediation through someone who is impartial and try to come up with an agreement outside the court system. Request a family mediator through the court system and sit down with the child's parents to discuss the possibility of visitation rights. If no agreements can be reached, prepare to go through the court system.
Step 2
Request a copy of the form "Petition for Grandparent Visitation" from your circuit county courthouse or the family court system in your county. The form's name may vary from state to state, but each state has a form that grandparents can use to request visitation rights through the courts.
Step 3
Fill the form out and state the reason why you need to request visitation rights. Collect any evidence you have to support your position. Attach the evidence to the form and file all the documentation with the court.
Step 4
Serve the custodial parents a copy of the form that you filed with the courts and inform them that you request their participation in the hearing. This can be done by having a sheriff serve the papers or sending a copy of the form via certified mail. Once the parents send you back proof they have received the paperwork, submit it to the court.
Attend the child visitation rights hearing that the court sets up. Discuss how your rights to visit your grandchildren have been violated and show evidence if you can. Ask the court to let you have visitation rights. Most states allow visitation rights as long as the child is not in danger.
References
Resources
Writer Bio
Angela Reinholz is a full-time freelance writer. Reinholz started writing professionally in 2007, specializing in animals and social work with some branching off into legal matters. She has a Bachelor of Arts in psychology from Southern New Hampshire University and an associate degree in network administration from McIntosh College, located in Dover, N.H.