How to Search Domestic Partner Records
By Calla Hummel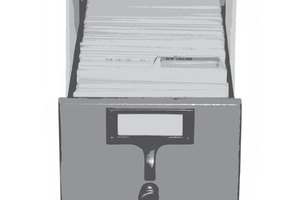 file image by Jan Will from <a href='http://www.fotolia.com'>Fotolia.com</a>
Domestic partnerships are granted by states, counties and cities and are public record. Each partnership-granting entity has a registry for domestic partners, who are required to file in order to be legally recognized. To search domestic partner records, you must find which registry a partnership is located in, have the first and last name of one of the partners and sometimes the registration number. Some registries are online, while others require a visit or phone call to the office, or a written and mailed request.
Online
Step 1
Go to the pertinent state's Secretary of State website.
Step 2
Find the domestic partner information page on the sidebar or menu options. If the registry is searchable online, you should be able to find what you need on the information page. If the registry is not through the state, but through counties, this should be stated on the website, in which case you should go to the county website. You can also enter "domestic partner" into the website's search bar to find the domestic partner information section.
Enter the first and last name of the partner you wish to search. Some states also require a registration number.
Over the Phone, by Mail or In Person
Step 1
Find the address or phone number of the domestic partner registry in your state. Contact information is always listed on the Secretary of State's website.
Step 2
Call and ask if you can search the records over the phone. If you can request information over the phone, give the employee the first and last name of the person you wish to search.
Step 3
Write a request for records and mail it to the registry, if you cannot or prefer not to access the information online or over the phone. Be sure to include the first and last name of the person you want records for, as well as a self-addressed envelope.
Visit the registry office if you cannot (or prefer not to) access the information any other way. You can find the address of the office on your Secretary of State's website. Be sure to bring the first and last name of the person. Bringing the registration number can also be helpful.
References
Writer Bio
Calla Hummel is a doctoral student studying contraband in international political economy. She supplements her student stipend by writing about personal finance and working as a consultant, as well as hoping that her investments will pan out.