How to Apply for Divorce in USA
By Editorial Team
Updated October 08, 2019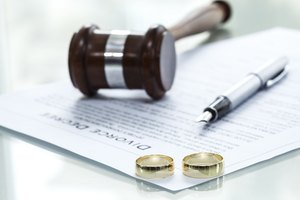 seb_ra/iStock/GettyImages
A legal divorce in America usually begins with the husband or wife hiring a lawyer. An attorney is trained to handle the time-consuming work of bargaining a plan for child support, alimony, custody and property division with a client's spouse or the spouse's lawyer.
However, a lawyer is not necessary in every divorce. In situations with no children, little property and spouses who are in agreement on the divorce, the matter can be handled in a local court with a minimum of paperwork and money. Either way, filing for divorce in the U.S. calls for several basic steps.
Grounds for Divorce
Determine the grounds for divorce. Acceptable grounds vary by state and fall into two categories: fault and no-fault. Fault grounds include such deliberate acts as adultery, abandonment and cruelty. No-fault grounds include incompatibility and separation. Fault divorces are uncommon, and in fact most states no longer even recognize them.
Residency Requirements Before Applying for Divorce
Find out your state's residency laws. Most states require a residency of at least six months before one can apply for divorce, while others demand a year or longer. Reno, Nevada is a popular city in which to seek a divorced because the residency requirement is only six weeks.
Contested vs. Uncontested Divorces
Determine whether your divorce will be contested or uncontested. Contested divorces are divorces in which there are property or custody disputes. Uncontested divorces occur when both parties are in agreement on the divorce and the terms of the divorce. You may wish to hire an attorney at this point, unless you are comfortable representing yourself in a contested divorce.
File the Court Documents
Find the court in your area in which to file for divorce. Whether or not you have a lawyer, this is the court where your divorce will be settled. If you are filing pro se, or without the help of an attorney, you will apply for a divorce decree by filling out various divorce and financial support forms.
When you file, you must pay a fee, which varies by state. If you can't pay the filing fee, most states allow you to apply for a fee waiver or make installment payments.
Serve the Papers
Have your spouse served with the divorce petition. Your lawyer will take care of this for you, or you can ask that a member of the court, usually the sheriff, to serve the petition. Then, give your spouse time to respond. The legal time frame varies by state, but is usually around 30 days. With or without a lawyer, your spouse has the right to argue with the terms of your divorce request.
Attend the Hearing
Once you submit the petition you will be given a hearing date. At the hearing, you will have the opportunity to present evidence before the judge makes a ruling on your case. The judge will usually grant a divorce when both parties are consenting. If you and your spouse settle everything before the hearing, you may not have to go to court.
An attorney can draw up a settlement agreement instead. The settlement agreement is legally binding, which means that both spouses are obligated to follow its terms.
References
Resources
Tips
If you can't pay the filing fee, most states allow you to apply for a fee waiver or make installment payments.
Warnings
It is difficult to file an uncontested divorce when children are involved. Most courts will intervene to decide what should be done with your children, regardless of your arrangements.
Writer Bio
This article was written by the CareerTrend team, copy edited and fact checked through a multi-point auditing system, in efforts to ensure our readers only receive the best information. To submit your questions or ideas, or to simply learn more about CareerTrend, contact us [here](http://careertrend.com/about-us).