How to Obtain Adoption Records in Oklahoma
By Editorial Team
Updated September 03, 2019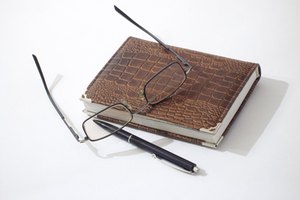 for records image by Maya Kruchancova from <a href='http://www.fotolia.com'>Fotolia.com</a>
Many adult adoptees are interested in knowing who their birth families were, what types of lifestyles they lived and the details surrounding their adoptions. Similarly, many birth families have an interest in connecting with the children who they gave up for adoption and their families – and many do not. Because of this, Oklahoma adoption records are typically sealed and may be opened only when the parties named within consent or when the adopted individual obtains a court order to open them.
Who Can Access Adoption Records in Oklahoma?
When an adoption was finalized determines how the adoptee may access records related to it. If an adoption was finalized prior to November 1, 1997, the adult adoptee must work with the Oklahoma Department of Human Services' confidential intermediary system to access Oklahoma adoption records. If the adoption was finalized after this date, the adoptee may obtain an uncertified copy of her original birth certificate, if these requirements apply:
She does not have minor birth siblings living in adoptive families whose whereabouts are unknown.
She provides proof of her identity.
Her birth parents have not filed affidavits of nondisclosure.
An affidavit of nondisclosure is a document that states that identifying information cannot be disclosed to confidential intermediaries. Confidential intermediaries are trained social workers employed by the Oklahoma Department of Human Services to help adult adoptees and their families share critical information and potentially connect with each other. One of the most important roles a confidential intermediary plays is obtaining consent to share information from individuals involved in adoptions. Once consent is obtained, an individual is added to the Oklahoma Department of Human Services' Mutual Consent Voluntary Registry.
Using the Oklahoma Adoption Registry
When an adult adoptee opts to work with the Oklahoma adoption registry to find information about his birth family, the first step is to register with the adoption registry for a $20 fee. Once he has been part of the registry for six months or longer, he may conduct a search with a confidential intermediary. This costs $400 for the first search and $200 for all subsequent searches.
The adoptee may recover identifying information only if his birth family has consented to providing it or if he obtains a court order to recover it. When the adoptee and his birth relatives both consent to sharing identifying information, he may receive whatever information they agree to share. This identifying information may include:
Birth relatives' names as well as previous names they have used.
Birth relatives' current and former addresses.
Birth relatives' current and former occupations.
Medical records that contain identifying information.
Without obtaining his birth relatives' consent, the adoptee may be able to recover non-identifying information through a search with the Oklahoma adoption registry. Non-identifying information about birth relatives can be helpful to the adoptee, but do not make it possible for him to identify the relatives or connect with them. This information can include:
His racial and ethnic heritage.
Place and date of his birth.
Reasons his birth parents gave for his adoption.
Medical information his birth parents provided at the time of his adoption.
Birth parents' occupations at the time of the adoption.
Accessing Oklahoma Adoption Records With a Court Order
If an adult adoptee cannot locate identifying information through a confidential intermediary search, he may work with the court to unseal his adoption records by petitioning the Oklahoma State Registrar of Vital Statistics. To view this confidential information, he must obtain a court order. The order is granted only if the adoptee provides a compelling reason why he should view identifying information about his birth parents, like pressing medical needs that necessitate his finding out identifying genetic information.
References
Tips
Only the following people can apply to be a part of the registry:
Adopted adults age 18 or older
Adoptive guardians of an adoptee under 18 or deceased
Adult descendants of a deceased adopted adult
Birth parents
Adult biological relatives of an adopted adult.
Warnings
If the subject of the search does not want to be found, the state will not disclose their identity.
The search fees are nonrefundable, even when the search is unsuccessful.
Writer Bio
This article was written by the CareerTrend team, copy edited and fact checked through a multi-point auditing system, in efforts to ensure our readers only receive the best information. To submit your questions or ideas, or to simply learn more about CareerTrend, contact us [here](http://careertrend.com/about-us).