How to Get Back Child Support Waived
By Beverly Bird
Updated December 15, 2018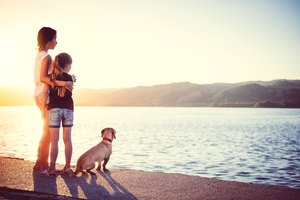 Kerkez/iStock/GettyImages
When child support arrears have you buried so deeply you don't think you'll ever dig out, your recourse depends a great deal on the state where your support order was issued. Some will work with you to at least reduce, if not waive, the debt. According to the National Conference of State Legislatures, only five states refuse to offer some sort of compromise on your arrears if you qualify.
Debt Compromise Programs
The NCSL indicates that at least 29 states have various programs in place to help you with your child support arrears. Another 17 or so allow their courts to decide these issues on a case-by-case basis, but a handful of them – including Maine, South Carolina, Florida, Hawaii and Delaware – have reputations for not budging from what you owe. Tennessee courts can't finalize a deal without the consent of the state's governor, comptroller and child support commissioner. Alabama will forgive any interest your debt has accrued, but not the arrears itself. Illinois will waive your arrears only if you can resume making current payments and you meet the state's guidelines for low income.
Qualifying for Help
If your state is willing to work with you, you'll probably have to present a great deal of proof explaining why you haven't paid child support and establishing that you can't catch up. You may need to show pay records or, if you were fired or laid off, proof that this occurred, such as a statement from your former employer. You may have to meet a few other requirements as well. In Michigan, you must establish that you were current with your support obligation before misfortune befell you and caused you to stop paying. The state will want to know what assets you own and whether your support order was based on your actual earnings or if income was imputed or assigned to you because you were out of work at the time support was calculated.
Amnesty Programs
Some states offer child support amnesty programs, which aren't quite the same thing as compromise programs. "Amnesty" doesn't involve applying to the state to have your arrears waived, but it allows you to approach the state to try to work something out without fear of being arrested if a bench warrant has been issued against you for nonpayment. In New Jersey, you can go to your county's probation office, which handles support arrears, and try to work out a deal to start making current payments if the state waives the arrears. If you can't reach a resolution, you're free to leave – no one is going to slap handcuffs on you. But the bench warrant probably won't go away entirely if you can't negotiate a resolution, and you might still be arrested later.
If You Owe Support to the State
Most states can only waive arrears if they're owed to the state, not to the other parent, at least not without that parent's consent. This is usually the case when your family is collecting public assistance to make ends meet because you haven't been contributing to your kids' support. Courts typically can't force your ex to give up money owed to her. If you were paying child support to your ex directly, and the state was never involved in collection, try negotiating with her to waive or reduce your arrears in exchange for a lump-sum payment, even if it's less than the amount you owe. You will likely need court approval to finalize the deal and make your agreement official in a court order.
An Ounce of Prevention
If you find yourself falling behind with support payments, petition the court to modify your child support order based on your current income. An order for a lower amount of support can stop you from falling further behind with payments you can no longer afford. It might even help you negotiate with your state for a waiver if it's apparent that you've done all you could to adjust your child support order so you can resume paying it.
References
Writer Bio
Beverly Bird has been writing professionally since 1983. She is the author of several novels including the bestselling "Comes the Rain" and "With Every Breath." Bird also has extensive experience as a paralegal, primarily in the areas of divorce and family law, bankruptcy and estate law. She covers many legal topics in her articles.