Child Custody Laws in Texas for Unmarried Parents
By Contributor
Updated December 15, 2018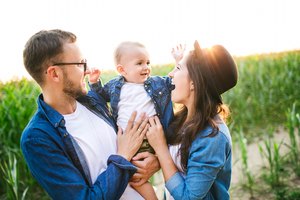 Katie_Martynova/iStock/GettyImages
Texas laws state that unmarried parents can't even begin to resolve custody issues until the father is considered a legal parent. Being the biological father does not automatically guarantee you parental status in Texas, however. Thus, establishing paternity may be your first step in exploring Texas custody options. After that, the process for determining visitation, child support and a host of other factors pertaining to the well-being of your child falls under the jurisdiction of the family court system.
Establishing Paternity
If you've never married your child's mother, Texas does not automatically recognize you as a legal parent. There is one exception noted in Texas Family Code Section 160: If you lived continuously with the child and his mother during the first two years of his life, and represented to others that the child is yours, you are considered a legal parent. Otherwise, your child's mother retains all parental rights and makes all decisions regarding the child's care and upbringing.
Texas provides unmarried parents a clear legal path to establishing paternity and strongly encourages fathers to do so early in the child's life. The most common way requires that both parents voluntarily sign an Acknowledgement of Paternity document very near the time of birth. This free form is available at hospitals and vital statistics offices. Both parents must submit a valid ID to complete the document.
If you failed to establish paternity at or near the time of birth, the courts can issue an agreed paternity order if both parents agree to specific custody rights. If mom is not on board with the idea, you must obtain court-ordered paternity rights. Both options require you to take specific steps outlined in Texas law. If you cannot afford an attorney, you can contact the Texas Office of the Attorney General, Child Support Division for assistance with the process.
Joint Custody
Parents are most often awarded joint custody in Texas and identified as Joint Managing Conservators. This allows parents to share decisions about medical care, education, extracurricular activities such as dance lessons and all the other details involved in parenting. But even with joint custody, one individual is named the custodial parent. That's typically the parent who receives child support and with whom the child lives more than half the time. The custodial parent retains the right to determine the physical residence of the child.
Standard Possession Order
For details like visitation schedules, such as where your child will spend the holidays and what to do when the parents live 100 miles apart, custody orders usually include a Standard Possession Order (SPO). This contains details about the noncustodial parent's access to, and possession of, the child. Parents can work out these issues on their own. If you can't agree on the terms, however, the SPO contains specifics about a noncustodial parent's right to visitation. For instance, a basic SPO grants a noncustodial parent possession of the child two hours every Thursday night and for at least one month in the summer, as well as every first, third and fifth weekend and alternating holidays.
Sole Custody
When the court believes that joint custody may threaten the safety and well-being of a child, it can name one parent as Sole Managing Conservator (SMC). Designed to protect the child, this court order may take away the other parent's right to make any decisions concerning the child's welfare, eliminate visitation rights entirely or order supervised visits.
References
Writer Bio
This article was written by a professional writer, copy edited and fact checked through a multi-point auditing system, in efforts to ensure our readers only receive the best information. To submit your questions or ideas, or to simply learn more, see our about us page: link below.