How to Move Children Out of State With Their Father's Permission
By Lynndee Marooney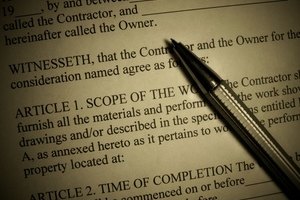 Child custody laws vary from state to state and each parenting agreement may contain different terms and agreements. Moving children out of the state in which they have resided and where their other parent resides is always a move that should be carefully evaluated so you do not break any laws and risk losing the custody of your children. If you have permission from the non-custodial to move out of the state, you should take a few steps to make sure the agreement is legal and binding.
Step 1
Write out the terms that you and the non-custodial parent have agreed upon. Clearly state that you will be removing the children from the state in which you currently reside, and include any other details associated with the move. Include the visitation schedule you have agreed on, if any.
Step 2
Sign the agreement in the presence of a notary. You will both need to be present. Have three identical documents notarized. One original will be submitted with the court and each of you will retain an original.
Step 3
Proceed to your local county courthouse and file the document. Once the document is entered with court, you can also get a copy of the agreement that will have the court stamp.
Keep this legal agreement in a safe place. Should the non-custodial parent change his mind at a later date, you will have a legal document showing that he did agree to the move out of state at the time that it occurred, therefore proving you did not violate any laws by moving the children out of state.
Writer Bio
Living in Denver, Lynndee Marooney has been writing finance and credit-related articles, guides, manuals and e-books for private companies since 1995. She holds a Bachelor of Arts in journalism and a Bachelor of Science in finance from the University of Maryland. She enjoys counseling clients who are experiencing financial difficulties.