How to File for a Contested Divorce in Washington State
By Jackie Whalen
Updated July 20, 2017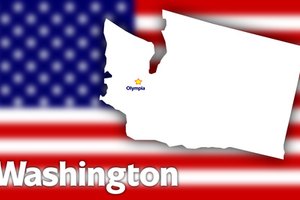 Washington state contour against blurred USA flag image by Stasys Eidiejus from Fotolia.com
Washington is a no-fault divorce state, which means neither you nor your spouse need to have grounds for a divorce beyond irreconcilable differences. You can file for divorce in Washington as long as you or your spouse are living in Washington on the day you file the petition. A contested divorce means that you and your spouse do not agree on the divorce issues, such as child custody, child support, or the division of marital assets. In this case, a trial date will be set and the contentious issues in your divorce will have to be decided by a judge.
Talk to an attorney to make sure you protect your rights in the divorce. Even if you decide to represent yourself in the divorce, it would be wise to get legal advice to make sure you are protecting all of your rights with regard to child custody, child support, spousal support, marital assets, marital debts and any other financial considerations you might have.
Go to the clerk's office in the Superior Court in the county where you want to file for divorce. You should file in the county where either you or your spouse currently live.
Complete the Petition for Dissolution of Marriage. The petition is a document that details who the parties are and what you, as the petitioner, are seeking in the divorce. The petition is available from the clerk's office. Use dark blue or black ink when filling out the petition, and be sure to make copies of the petition for your records.
Complete additional forms according to local court rules. Each county court has its own procedures and distinct rules. Check with the court in which you are filing your petition for any additional forms you might need.
File the Petition for Dissolution of Marriage and any additional forms as required by the court. File these forms with the court clerk and pay the filing fee. The filing fee varies from county to county. If you cannot afford to pay the fee, file for an "In Forma Pauperis" fee waiver with the court clerk.
Have your spouse served with divorce papers. Any adult over the age of 18 can serve your spouse with divorce papers. You might want to consider hiring a professional process server or the local sheriff to serve, or deliver the papers to your spouse. Once your spouse is served, he has between 20 and 60 days to file a response with the court, depending on which county the petition was filed in. Once your spouse files a response, the divorce becomes a contested divorce and you will have to attend trial.
Writer Bio
Based in Buffalo, N.Y., Jackie Whalen has been writing since 2007. She has a Bachelor of Arts degree in religious studies from the University of California, Santa Barbara. She is currently a third-year law student.