What Is Considered Child Abandonment in Washington State?
By Liza Martin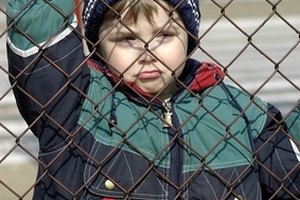 The State of Washington considers the bond between a parent or guardian and a child of the utmost importance, and it places high priority on protecting a child's health, welfare and safety. The state defines child abandonment by statute, enforces mandatory reporting requirements and has a department to investigate complaints.
Child Abandonment Statutes
The State of Washington considers a child to be abandoned when, according to state Administrative Code 388-15-011, that parent or guardian is responsible for the care, education or support of a child and (a) deserts the child in any manner whatever with the intent to abandon the child; (b) leaves a child without the means or ability to obtain one or more of the basic necessities of life, such as food, water, shelter, clothing, hygiene and medically necessary health care; (c) forgoes for an extended period of time parental rights, functions, duties and obligations despite an ability to exercise such rights, duties and obligations.
Furthermore, Washington Administrative Code 388-15-011 states that Abandonment of a child by a parent may be established by conduct on the part of a parent or guardian that demonstrates a substantial lack of regard for the rights, duties, and obligations of the parent or guardian or for the health, welfare and safety of the child. Criminal activity or incarceration of a parent or guardian does not constitute abandonment in and of itself, but a pattern of criminal activity or repeated or long-term incarceration may constitute abandonment of a child.

Read More: What Is Child Abandonment?
Abandonment is Neglect
Approximately 17 states, including Washington, consider child abandonment a type of neglect, which is commonly defined as the failure of a parent or guardian to provide food, clothing, shelter, medical care or supervision to the extent that the child's health, safety or well-being are threatened, according to the Child Welfare Information Gateway.
Furthermore, the Washington Administrative Code 9.91.060 states that anyone who has temporary or permanent care or custody of minor children under the age of 12 who leaves a child in a parked automobile unattended by an adult while such person goes to a tavern or other premises where vinous, spirituous or malt liquors are dispensed for consumption on the premises is guilty of a gross misdemeanor.
Also, the Washington Administrative Code 46.61.685 contends that it is unlawful for any person, while operating or in charge of a vehicle, to park or willfully allow such vehicle to stand in a public highway or public place with its motor running, leaving a minor child or children under the age of 16 unattended in the vehicle. Anyone found in violation is guilty of a misdemeanor. Upon a second or subsequent conviction for a violation of this section, the department will revoke that driver's license.
Reporting Abandonment
The Revised Code of Washington 26.44.030 requires that certain people report child abandonment. Those who are required to report abandonment are medical professionals, law enforcement officers, school personnel, social workers or child care providers. Washington Child Protective Services investigates any oral or written complaints of child abandonment.
Exceptions to the Law
The state of Washington's Revised Code allows for a few exceptions in its child abandonment laws. A parent who transfers a newborn to a qualified person at a hospital, fire station or rural health clinic during hours of operation is not subject to criminal liability under section 26.20.030 of the Revised Code of Washington.
Penalties of Abandonment
Any person who deserts a child in any manner with the intent to abandon is guilty of the crime of family abandonment, which is a class C felony and punishable by up to five years in prison or a $10,000 fine under chapter 9A.20 under the Revised Code of Washington. If there is probable cause to believe that a child is abused or neglected and that the child would be injured or could not be taken into custody if it were necessary to first obtain a court order (pursuant to RCW 13.34.050), an officer of the peace reserves the right to arrest without a warrant, under Revised Code of Washington 26.44.050.
A child considered to be abandoned is placed in the care of Washington Child Protective Services.
References
Resources
Writer Bio
Based in Dayton, Ohio, Liza Martin began writing in 2005. Her work has appeared in "The Destin Log," "The Newark Advocate," Metromix, and in Columbus publications "City Scene Magazine," "Dublin Magazine," "Upper Arlington Magazine" and "Westerville Magazine." Her areas of expertise include education, music, literature, and health. Martin has a Bachelor of Arts in journalism from Ohio University.