How to Find a Canada Marriage Record
By Tiffany Raiford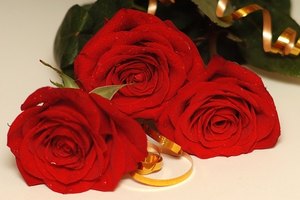 weddings bouquet image by Mykola Velychko from Fotolia.com
Marriage records in Canada are kept by the vital statistics office located in each province. In Canada, marriage records are considered a matter of public record. The vital statistics office will provide the public with information regarding marriage records for a fee. Copies of marriage records can also be obtained by eligible persons.
Step 1
Determine whether or not you are eligible to order a marriage certificate. Persons eligible must be either the bride or groom, have written permission from the bride or groom, have a court order or be the next of kin of a deceased bride or groom. Anyone can apply for marriage records more than 75 years old.
Step 2
Obtain the Application for Certificate/Documents (See Resources). Fill out the form requesting the marriage record you need with your personal information, the name of the bride and groom, the city where the marriage took place and the date of the marriage.

Read More: How to Search for a Marriage Certificate
Mail the application, along with a check for $39.64 (as of March 2010) and a photocopy of your driver's license to the registry connect office in the city where the marriage took place. Your marriage certificate will be mailed to you within five days of receipt of application.
References
Tips
You can put your credit card information at the bottom of the application if you'd rather pay by that method.
Marriage certificates are only available in the city where the marriage took place and you will need to use the registry connect office in that city or town.
Writer Bio
Tiffany Raiford has several years of experience writing freelance. Her writing focuses primarily on articles relating to parenting, pregnancy and travel. Raiford is a graduate of Saint Petersburg College in Florida.