Puerto Rico Child Support Laws
By Limari Colon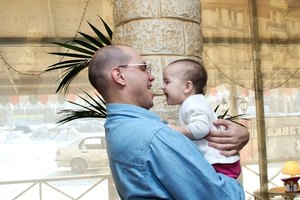 Puerto Rico's child support law is best known as the Organic Law of the Administration for Child Support, or its acronym, ASUME. This law states that it is public policy of the Free Associated State and Commonwealth of Puerto Rico to secure a child's well-being, holding legally responsible his parents or guardians if his basic needs, such as food, shelter, education and clothing, are neglected. .
Approach
When the parents of a child are divorced or separated, the mother or father who has the custody of the minor (less than 21 years of age), may go to court and request a fixed child support. In such case, if the mother or father is underage as well, she must appear in court represented by her mother, father or legal guardian. If going to court seems too much hassle to obtain child support, the alternate, informal route may be taken, which is ASUME. This entity is validated by the state and usually does not ask the person requesting child support to have legal assistance.
Stipulations
The law clearly states that child support is subject to the resources available for the mother or father who will provide it. Puerto Rico's Civic Code ensures the consistency of this law by establishing different charts, declaring fixed pension amounts for a child according to his father's or mother's earnings.
UIFSA
If the noncustodial parent of the child lives in the United States, the Uniform Interstate Family Support Act ensures the enforcement of the child support law in each of the 50 states. The child support must be ordered by court in order for the UIFSA to enforce it. ASUME then has full authority on how to proceed with acquiring the fixed amount, such as, but not limited to, debiting the child support from the noncustodial parent's paycheck.
Contact Information
This information pertains to ASUME's central offices in Hato Rey, Puerto Rico. Contact them before going to court to receive in-depth orientation on Puerto Rico's child support law.
ASUME Metro Center Building Mayagüez #5 St. Corner of the Cidra Street Hato Rey, PR 787-767-1500 gobierno.pr/asume
References
Writer Bio
Based in Puerto Rico, Limari Colon has diversified writing articles since 2009. Her articles have appeared in "The Huffington Post," "RAE Magazine Online," and "Game on Mac." She holds a Bachelor of Arts degree in music from The University of Puerto Rico.