How to File for a Divorce in Chatham County, Georgia
By Editorial Team
Updated March 18, 2019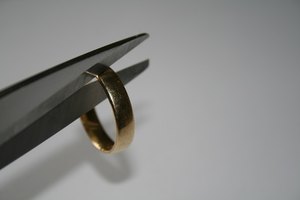 Filing for divorce in Chatham County, Georgia, is relatively simple. You can even do it without a lawyer, a "divorce pro se." If you have an uncontested divorce where you and your spouse agree on key points – child support and visitation for instance – it may only take a month. If your spouse contests the divorce things become more complicated and take longer.
With a complicated divorce, you may be better off using a lawyer than going it alone.
County Residency Requirements
You can't file in Chatham County, or anywhere in Georgia, unless you meet state requirements. To file for divorce you must have been a resident of the state for the previous six months, or have Georgia listed as your last place of residence while you were with your spouse. Even if you've moved to another state, if you spent your last six months of marriage in Georgia you can file for divorce there.
Grounds For Divorce
You don't need to prove your spouse has done anything wrong to file. All you need to claim is that your marriage is "irretrievably broken": You no longer want to live with your spouse and there's no chance of reconciliation. There are other grounds in Georgia law, such as adultery or abandonment, but you don't need them to divorce. Invoking them may, however, influence the judge's decisions on alimony and property division if you can prove your claims.
Filing Divorce Paperwork
You can download divorce paperwork from the Chatham County website or stop by the courthouse. Complete and sign the forms and submit them to the clerk of court, who will record and stamp them with the date of application. The Superior Court of Chatham County, Georgia, is located at: 133 Montgomery Street Suite 304 Savannah, GA 31401 Phone: (912) 652-7197 Fax: (912) 652-7380. After you file, you must pay the county sheriff or a process server to deliver the decree to your spouse.
Going to Court
There is a 30-day waiting period following your petition. Be patient. Your divorce will go through much more quickly if your spouse doesn't contest your requests, or if the two of you had drafted an agreement beforehand about the division of property, assets, child support and alimony. You probably won't even have to attend. If you have a contested divorce, you have to show up.
Based on testimony from you and your spouse, a judge will rule on the separation of marital assets, custody of children and visitation rights. When the divorce is finalized, you obtain your divorce decree from the clerk of court.
References
Resources
Writer Bio
This article was written by the CareerTrend team, copy edited and fact checked through a multi-point auditing system, in efforts to ensure our readers only receive the best information. To submit your questions or ideas, or to simply learn more about CareerTrend, contact us [here](http://careertrend.com/about-us).