Child Visitation Laws in Georgia
By Bernadette A. Safrath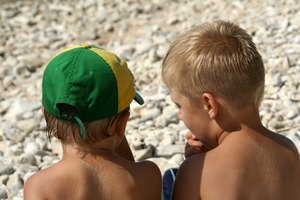 children at the beach image by Piter Pkruger from Fotolia.com
Visitation is important because it allows the child to still maintain his relationship with the non-custodial parent. Georgia's law includes provisions for standard visitation, supervised visitation and grandparents' rights to visitation. A regular visitation schedule is important to provide stability for the child.
Visitation
Where one parent has been awarded sole custody, the other parent is entitled to reasonable visitation. This gives the non-custodial parent the opportunity to spend time with the child. However, the non-custodial parent is not permitted to interfere with the custodial parent's rights, especially with regard to any decisions concerning the child's upbringing, such as religion or education. In Georgia, a court can limit or deny visitation for a brief period of time if the non-custodial parent fails to pay child support, but the custodial parent cannot withhold visitation without court involvement. Failure to pay child support is not grounds for permanent denial of visitation in Georgia.
Visitation Schedule
Georgia's standard visitation schedule allows the non-custodial parent to see his child on alternating weekends and every other holiday. A weekend period is Friday evening to Sunday evening. Additionally, the non-custodial parent can also be granted several weeks of visitation during the summer. A court can arrange a general visitation schedule, but allows parents to create the final schedule to insure that it is convenient for both parents and the child.

Read More: How to File a Grandparent Visitation Petition in Court
Modifying Visitation
In Georgia, the issuing court can review visitation orders every two years. Beyond that, either parent can request modification of an order at any time. The parent requesting a change must prove a "material change" in circumstances occurred, the change had a significant effect on the child's welfare and best interests, and evidence of the "material change" is recent.
Supervised Visitation
If the non-custodial parent seeking visitation has a history of abuse, Georgia law allows supervised visitation. Supervised visitation is arranged to take place at a specific time and location. A person other than the custodial parent must be present during the visit. Parents may choose the person, or the court will appoint someone. The person is a chaperone to protect the child's welfare, especially when the parent's abuse was directed towards the child.
Grandparents' Rights
In the 2000 court decision, Troxel v. Granville, the United States Supreme Court held that parents have a "fundamental right" to raise their children free from government interference. However, in Georgia, grandparents are permitted to seek visitation. Parents can limit grandparent's visitation rights, but if grandparents can show that they have a relationship with the grandchild that they, as well as the child, wish to maintain, a court will grant some visitation.
References
Writer Bio
Bernadette A. Safrath is an attorney who has been writing professionally since 2008. Safrath was published in Touro Law Center's law review and now writes legal articles for various websites. Safrath has a Bachelor of Arts in music from Long Island University at C.W. Post, as well as a Juris Doctor from Touro College.