Temporary Custody Laws in Oklahoma
By Bernadette A. Safrath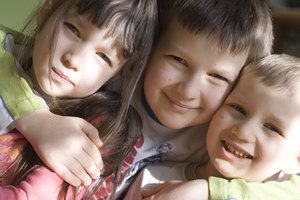 happy children image by Marzanna Syncerz from Fotolia.com
Oklahoma has two kinds of temporary custody. One kind is temporary custody during a separation or divorce proceeding. The other is temporary emergency custody, when there are circumstances of child abuse or neglect. When a child is removed a court will determine whether or not she should be returned to her parent or parents.
Temporary Custody
In Oklahoma, temporary custody is the child's living arrangements as agreed by the parents during their initial separation and divorce proceedings. The temporary custody agreement may not end up being the final determination of custody. This means that if one parent agrees that the other can have temporary custody, he is not barred from later seeking permanent custody. A court will determine custody based on "the best interests of the child" standard and has the right to make any necessary changes to the temporary custody arrangement.
Emergency Removal
Oklahoma law has emergency removal procedures in place, where there are allegations of child abuse or neglect. Oklahoma considers abuse any instance of emotional, physical or sexual abuse. Neglect can be the failure to provide proper shelter, food and overall care, as well as a parent's inappropriate conduct, like drug use or illicit sex in front of the child.
Where there are any such allegations, Oklahoma police or a child welfare department will immediately remove the child from home. An emergency temporary custody case will then be started to appoint a temporary guardian and determine whether a parent's custodial rights should be permanently terminated.

Read More: How to Get Emergency Custody of Children
Emergency Temporary Custody
If the Oklahoma Department of Social Services (DSS) removes a child from her home, a court must appoint a temporary guardian. DSS initiates the emergency temporary custody case and a temporary guardian, who is pre-registered with DSS and meets the required qualifications, cares for the child. During the hearing, the custodial parent has the right to be heard on any allegations and show that she is still a fit parent. A judge will then make a determination based on what is in the best interests of the child. If the parent is found fit, the child will be returned. If not, the judge will terminate the parent's rights and make other arrangements for the child.
References
Writer Bio
Bernadette A. Safrath is an attorney who has been writing professionally since 2008. Safrath was published in Touro Law Center's law review and now writes legal articles for various websites. Safrath has a Bachelor of Arts in music from Long Island University at C.W. Post, as well as a Juris Doctor from Touro College.