How to Request a Copy of an Arizona Divorce Decree
By Editorial Team
Updated March 19, 2019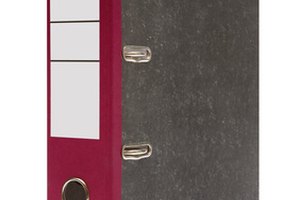 Modern folder for papers on a white background image by terex from Fotolia.com
Arizona divorce decree copies are available upon request at the county superior court where the divorce was finalized. Courts do not have a central digital database, thus it is important to know where documents and judgments were originally filed. There are 15 superior court locations in Arizona where divorces are filed and records are held.
Confirm Business Hours and Address
Once you establish the location of divorce records, confirm with the clerk the court clerk's address and business hours. Inquire about procedures. Walk-in, mail and email requests are accepted. Some locations accept fax requests as well.
For example, Maricopa County has four regional court centers where someone can go in person, but only one central location that handles mail and fax requests.
Required Information
Identifying your case number is required regardless of whether you request the information in person or other means. Other identifying information, in addition to the case number, includes the names of parties involved, the actual document desired, the date the document was filed and the number of pages to be copied.
A "Request for Access to Court Records" is used in most counties at the clerk's office per Supreme Court Rule 123 to ensure that information is used judiciously and according to the law. If a party is later suspected of abusing public records for commercial gain or other unlawful activities such as harassment, this is a record of who accessed the document.
No specific form is required when requesting copies by mail, but it is imperative to accompany the request with contact information. The court clerk may have questions or need clarification about your requested documents. You can still obtain copies even when all required information isn't known. Often people don't recall the exact date of a filing or judgment. Provide a date range, but be as specific as possible to narrow the search for the clerk.
Fees for Copies
If the request is complete, the only fees will be for copies and possibly certification, if required. A certified copy attests that the copy is an exact duplicate of the original files.
Fees for copies are 50 cents per page. To certify those copies, an additional $27 is required per document. Requests that don't have complete identifying information could also be charged an additional $27 for each calendar year the clerk's office has to search. For example, if you don't know if the divorce was filed in 2001 or 2002, there may be an additional $54 to locate the file to copy.
Fees are consistent through most of the counties, but are subject to change. Confirm with the clerk before sending any funds.
Classified Documents
Divorce filings are public record in Arizona and are available for viewing by anyone. Arizona Superior Courts do identify certain documents involved in a divorce that are not available for copying. Items such as custody evaluations and psychiatric evaluations are not available for copying but can be reviewed in the records office. While these additional documents are generally not part of the final decree, it is important to know that access is limited to walk-in and view-only requests. An exception to this is attorneys and other evaluators who request copies; courts assume these professionals maintain these records securely and confidentially.
Use of Public Records
Divorce decrees are public records that are available to anyone, not just the parties involved in the divorce. However, the use of public records in Arizona is subject to "use statutes" protecting parties from harassment and public libel or slander. Violation of these laws is subject to civil and criminal penalty.
References
Resources
Tips
In Arizona, you cannot order divorce decrees from the Office of Vital Records.
Writer Bio
This article was written by the CareerTrend team, copy edited and fact checked through a multi-point auditing system, in efforts to ensure our readers only receive the best information. To submit your questions or ideas, or to simply learn more about CareerTrend, contact us [here](http://careertrend.com/about-us).