How to Fill Out a Marriage License
By Dan Zisko
Updated October 31, 2018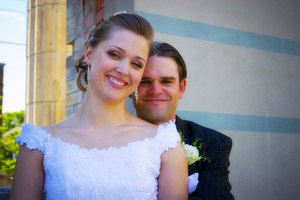 Wedding planning can be a stressful time for both the bride and the groom. With so much to do, it can be easy to miss little details. One detail that you cannot forget is the marriage license. If your marriage license is not filled out correctly, your marriage might not be legal. Filling out the marriage license is not a lengthy process, but all information has to be correct and accurate.
Go to the nearest county clerk's office with your fiance. Both parties to the marriage must be present to fill out the form.

Read More: What Happens if a Marriage License is Never Turned In?
Ask for the marriage license form from the clerk representative. Fill out all of the fields that need to be completed before the marriage takes place. This required information includes the bride's and groom's names, ages, addresses, Social Security numbers, places of birth and parents' names. Both the bride and groom must sign.
Present the license form to an agent of the county with identification. The identification is used to verify the parties who are applying for a license and to determine that they are both 18 years of age or older.
Pay the appropriate licensing fee. This fee differs depending on which state you get married in. Also, different counties accept different forms of payment. For example, in Pinellas County, Florida, the fee is $93.50, and cash, a money order, a traveler's check, a personal check or a credit card is accepted as payment.
Marry your fiance before the license application expires. Many times, this is a period of 60 days. According to the New York City Office of the City Clerk, the period is 60 days, with up to 180 days for active military personnel. Check with your county clerk's office to be sure of the duration.
Present the license to your officiant and witnesses for their signatures immediately after the marriage ceremony has been performed. Spaces for these required, final signatures are located at the bottom of the license.
Send the license back to the county clerk's office within the alloted time allowed. In many jurisdictions, you must mail the license back within 10 days of the ceremony. Check with your clerk's office for this duration.
Tips
Some counties allow a reduction in marriage license pricing if the couple takes a marriage preparation course. The price of the license in Pinellas County drops to $61 when this course is taken.
References
Writer Bio
Based in California, Daniel Zisko has been a writer since 2008, penning articles for a variety of online publications. Before he started a writing career, he spent several years traveling and working as a hotel manager for several different hotel properties. Zisko holds a bachelor's degree in accounting from National University with a minor in biology.