How to Find Out If Somebody Owes Child Support
By Jill Lewis
Updated December 05, 2018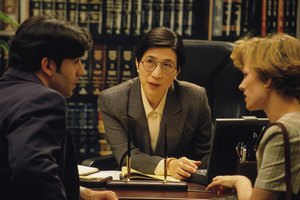 Comstock/Stockbyte/Getty Images
If you have gone through a divorce and have minor children, it is common for the court to order a child support arrangement as part of the divorce proceedings. While both parents are responsible for the support of their minor children, it is the non-custodial parent who generally bears the brunt of the child support payments. However, the obligation to pay child support is not legally enforceable unless a court has specifically ordered the payment of child support. Accordingly, if you are unsure of whether you owe, or are owed, child support, you need to find out whether a child support order has been entered by a court.
Call the court in the jurisdiction where your divorce was filed. The court where your divorce was filed will have a record of all orders issued by the court in regard to your case. If the clerk does not have record of a child support order being entered as part of the divorce case, ask whether you were ever named as a party in a subsequent child support proceeding. If child support was ordered as part of the divorce proceedings, or afterwars at the request of one of the parties, you can request a copy of the order, or go to the courthouse yourself to view the document. The order should set forth the amount of child support ordered by the court and specify when and how it is to be paid.
See whether your court has a separate child support enforcement division. Many courts nowadays have a separate division devoted solely to the enforcement of child support orders and collection of back child support. Check with this court division to see whether they have any record of a child support order naming you as a party.
Contact a child support collection agency. There are agencies in almost every state that serve the family courts and child support divisions in enforcing child support orders, providing information to the public regarding the collection of child support and advocating for those individuals that are owed back child support. These agencies can provide guidance on what to do if you are owed, or owe, back child support. Many state child support agencies even maintain an online database that tracks child support status, including payment delinquency and enforcement actions.
Check court records online. Thanks to the Internet, you can now search public records online. Many websites compile public records from all state courts (See Resources) and organize the information by state and legal category. These sites are generally free and allow you to quickly search the public court records of all states and counties in which you have resided.
Consult with an attorney. An experienced family law attorney can be your best ally in determining not only whether a child support order exists, but what to do about it if it does. If you are unable to afford the services of an attorney, contact your local Bar Association to see if you qualify for legal aid. Legal aid provides legal assistance to those individuals with family law issues that meet certain income and residency requirements.
Warnings
If you find out that you owe back child support, take action immediately, whether through your attorney or the help of a state agency, to remedy the situation. In most states, failure to pay child support is a punishable offense.
References
Resources
Writer Bio
Jill Lewis is an attorney in the insurance defense field who combines an active law practice with a freelance writing career. Concentrating on legal articles dedicated to providing practical advice to the layperson, Lewis has written for various online and print publications, including eHow and Business.com. She is a graduate of New York University and the Lewis and Clark School of Law.