How to Find Someone Else's Marriage License?
By Risa Edwards
Updated December 27, 2018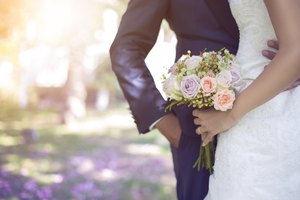 ragıp ufuk vural/iStock/GettyImages
Unless you have a confidential marriage record, marriage licenses are generally considered public record and available to anyone. Generally, you can access the license through placing a request through the proper channels. Note, depending on the state, you may be required to have one of the parties whose license you are inquiring about to give consent before you can access the marriage license.
Gather Required Documentation
Gather as much personal information as possible. This includes the names of both spouses, marriage date and the state and county where the marriage took place.
Requesting Vital Records
Contact the county where the marriage took place. Some counties have electronic copies available to download. There may be a small fee required to access this information. Most states only require your request, applicable fees and a government-issued ID and signature.
Online Searches
An online search might yield results. In Maryland, for example, there is a marriage licence public retrieval system operated by the state. By entering the first and last name of one of the parties, and choosing the county from a drop-down menu, you will be able to view someone else's marriage certificate. You might need to search individual counties, depending on the state. Broward County, Florida, for example, has its own searchable online database where you only need to know one of the parties' names.
Remember, Access to Vital Records Vary by State
Remember to check with your state to see if you can access another person's marriage licence; some states don't allow you to access the licence without written permission. For instance, in California, there are two types of marriage certificates: confidential and public. If you are trying to obtain a public marriage record, you can only obtain a copy of the record if you are related to one of the parties in the marriage, a member of law enforcement, or an attorney who represents one of the parties. If you are trying to access a confidential marriage record, you're out of luck.

Read More: How to Access Free Birth & Marriage Records
References
Tips
Search possible misspellings of names if you can't find a person. Give yourself plenty of time to research.
Warnings
Many small counties have limited access to records. You might need to physically visit the clerk's office to get a copy.
Writer Bio
Risa Edwards is a librarian who works for a small private university. She has a degree in geology and library science, but is interested in topics from across many disciplines. Edwards enjoys using her research skills to help others as well as continuing to broaden her own knowledge.