How Long Does It Take to Get a Marriage Certificate?
By Teo Spengler
Updated November 30, 2019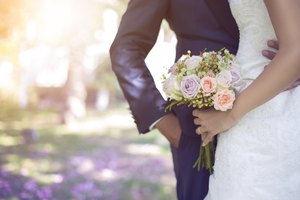 ragıp ufuk vural/iStock/GettyImages
Couples considering getting married need to understand the difference between a marriage license and a marriage certificate. Both are legal documents associated with the union, but the couple gets one – the marriage license – before the service, and gets the other one – the marriage certificate – after.
What Is a Marriage License?
A marriage license is a legal document authorizing a couple to get married. Think of it as a permit issued by a city or county. A couple applies for the marriage license by filling out a form and presenting identification. Once the license is in their hands, they can tie the knot at any point over the life of the license, usually a few months.
Waiting periods for a license vary among states, but usually the license can be obtained immediately when the couple goes in to apply for it, or within a three-day window after that. Minnesota and Wisconsin are tied for the longest wait time for a marriage license, with both states taking about five days.

Read More: What Happens if a Marriage License is Never Turned In?
Getting a Marriage License in California
To get married in California, a couple must apply for a marriage license at any county clerk's office. Both people must be unmarried, over the age of 18 and have current identification proving their names and ages. They need not be California residents or even citizens of the United States, and they don't need to marry in the city where they obtain the license.
In California, a couple gets either a public marriage license or a confidential marriage license. The latter is only offered to couples who are already living together. They must attest on the license to living together, but no proof is required.
A couple needs to make an appointment to obtain the marriage license. In California, they usually are given the license at that appointment, and the marriage must take place somewhere in the state within 90 days from the date the license is issued.
What Is a Marriage Certificate?
A marriage certificate is a document that a couple gets after the marriage ceremony takes place. It is a certified document that proves they are married.
Typically, it works like this: A couple obtains a marriage license, then arranges the ceremony. After the marriage is performed, both new spouses and the person who performed the ceremony sign the marriage license. It is then filed with the county in the appropriate office, often the office of the county clerk, recorder or registrar.
In some states, the office filing the license sends a certified copy of the marriage certificate to the newly married couple. This happens within a few weeks of the ceremony.
Also Read: How to Change Your Name if a Marriage Certificate Does Not Have Your Married Name
Getting a California Marriage Certificate
The marriage certificate of a couple in California can be either a private one, available only to the parties, or a public one. A couple who applied for a public marriage license can get a certified public marriage certificate from the Office of the Assessor-Recorder. It is part of the public record in California and anyone can obtain a copy.
A couple who were married with a confidential marriage license are issued a Confidential Marriage Certificate; only the parties named on the marriage license are able to obtain copies.
A certified copy of a Confidential Marriage Certificate is available to the couple 10 business days after the signed marriage license is filed with the agency. They must file an application form and present valid photo identification to obtain it. The wait time in person is about 20 minutes. The couple can also order a marriage certificate online, by phone or by mail.
References
Writer Bio
Teo Spengler earned a JD from U.C. Berkeley Law School. As an Assistant Attorney General in Juneau, she practiced before the Alaska Supreme Court and the U.S. Supreme Court before opening a plaintiff's personal injury practice in San Francisco. She holds both an MA and an MFA in English/writing and enjoys writing legal blogs and articles. Her work has appeared in numerous online publications including USA Today, Legal Zoom, eHow Business, Livestrong, SF Gate, Go Banking Rates, Arizona Central, Houston Chronicle, Navy Federal Credit Union, Pearson, Quicken.com, TurboTax.com, and numerous attorney websites. Spengler splits her time between the French Basque Country and Northern California.