How to Obtain a Marriage License With No Social Security Number
By Teo Spengler
Updated November 30, 2019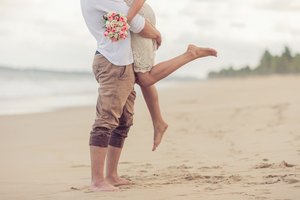 Fabiano Mesquita/iStock/GettyImages
In order to get married in the United States, a couple must first obtain a marriage license from the state in which they plan to tie the knot. Most states require that the applicants be at least 18 years old and currently unmarried. They may require identification proving the identity and age of each person, but most do not request the applicants' Social Security numbers.
A few states do request that an applicant show proof of a Social Security number (SSN). However, this does not mean that someone without an SSN cannot get a marriage license. Rather, a person who does not qualify for an SSN is permitted to get a marriage license if he signs an affidavit stating that he does not qualify for an SSN.
What Is a Marriage License?
A couple planning a wedding needs to obtain a marriage license first. This is the piece of paper that authorizes them to have the ceremony uniting them. The license gives a couple permission to marry within the state in which it is obtained within a certain period of time, usually 60 to 90 days.
A marriage license should not be confused with a marriage certificate. The certificate is a certified copy of the signed, filed marriage license and it is used to prove that a couple is married.

Read More: What Happens if a Marriage License is Never Turned In?
This is the way it usually works. A couple decides to get married in a particular state. They go to a county clerk's office in that state and apply for a marriage license by filling in the form and showing identification. They select someone to officiate, then have their wedding .
After the wedding, the couple and the person who officiated must sign the wedding license. This gets filed in the recorder's office afterwards, and certified copies of it serve as certificates of marriage.
The Marriage License
There are surprisingly few legal requirements people must meet in order to get a marriage license. Each individual must be at least 18 years old in most states and provide a photo identification proving identity and age. Passports or government-issued photo identification work fine.
Both people must be unmarried. If either had been married before, they must document the divorce. Between the two of them, someone must come up with the fee for the marriage license.
There is no requirement that the individuals be residents of the state in which they get their license, nor is there any requirement that they be United States citizens. People from other countries can get, and frequently do get, married in the United States.
Few States Ask for Social Security Numbers
All states as well as numerous counties and cities maintain websites that define the requirements to obtain a marriage license in their jurisdiction and the procedure to do so. Most list out the information and documentation required very precisely.
Only a few states mention a requirement that an applicant bring proof of a Social Security number. However, even these states allow an applicant without an SSN to qualify for a marriage license if she signs an affidavit that she isn't eligible to get a SSN.
Federal Law and Marriage Licenses
A number of internet articles falsely report that states are obligated to get applicants' SSNs before issuing marriage licenses. This belief stems from a careless reading of a section of the federal Personal Responsibility and Work Opportunity Reconciliation Act that was enacted to increase the effectiveness of child support enforcement. The law requires that states do a variety of things to bolster child support collection including obtaining SSNs of applicants for marriage licenses.
This law was enacted in 1996. In the succeeding years, states and the courts have interpreted the law quite narrowly. It is not read as preventing people without SSNs from marrying. Rather, it is held only to require that marriage license applicants who have SSNs can be asked to provide them.
References
Tips
Although providing the documents mentioned above is required, you are not required to be a resident of the city or county where you are obtaining the license. Find out the average processing time for your city or county clerk's office. You should start this process at least 1 month before your wedding date.
Warnings
Your marriage license is valid for 60 to 90 days after it is issued. To avoid expiration, your wedding should occur within this frame. If you have been married before, you will need to provide documentation showing the annulment of your previous marriage.
Writer Bio
Teo Spengler earned a JD from U.C. Berkeley Law School. As an Assistant Attorney General in Juneau, she practiced before the Alaska Supreme Court and the U.S. Supreme Court before opening a plaintiff's personal injury practice in San Francisco. She holds both an MA and an MFA in English/writing and enjoys writing legal blogs and articles. Her work has appeared in numerous online publications including USA Today, Legal Zoom, eHow Business, Livestrong, SF Gate, Go Banking Rates, Arizona Central, Houston Chronicle, Navy Federal Credit Union, Pearson, Quicken.com, TurboTax.com, and numerous attorney websites. Spengler splits her time between the French Basque Country and Northern California.