How to Marry a Prisoner
By Jann Seal
Updated January 29, 2020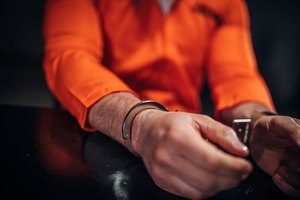 South_agency/iStock/GettyImages
Every man and woman in the United States, even those incarcerated for the most heinous crimes, have the fundamental right to marry, ruled the United States Supreme Court in the case of Turner v. Safley in 1987. However, don't expect wedding gowns, limousines, three-tier cakes or even a conjugal visit to be part of the proceedings if you're determined to marry someone who's in jail. Starting with the inmate marriage packet, both the paperwork and legwork involved are extensive and often come with hurdles that are difficult to overcome. But prison marriages do occur if persistence and love work together to get to the final "I do."
Emotions Behind a Prison Marriage
Prisoners have a lot of time to think. And, depending on the emotional structure of the inmate, realizing past mistakes and vowing to rid himself of the demons that led to the incarceration put him in an emotional state that depends on psychological support from the outside world. This person may benefit from a prison marriage and a structured life to look forward to after release. Religious and psychological counseling contribute to his after-release mental health.
A sociopath with multiple felonies, a history of abuse and a considerable amount of jail time in his life history isn't the best candidate for a prison marriage. If the inmate you're planning to marry falls into this category, you may want to consider your own mental health and seek counseling before making a commitment.
Reasons for Marrying a Prisoner
Perhaps the person you're engaged to and planning to marry commits a crime, is tried and sent to prison. You already have an emotional connection and share a life together that includes children. Your visiting rights and those of your children improve if you marry. Your spouse's pension, Social Security and inheritance rights are under your control as are the hospitalization and medical care permissions of the prisoner along with your hospital visitation rights.
Meeting an inmate through a letter-writing campaign that offers emotional support to prisoners is another way to meet and fall in love. However, these "long-distance" romances often flourish in the heart without making sense in the head. If you find yourself with an emotional attachment to a prisoner whom you've never met, put your feelings aside and start your research. All states have records of criminal behavior for every arrest, whether it led to incarceration or not.
Pre-marriage counseling is recommended for both parties as a high incidence of prison marriages end in divorce, whether during the incarceration period or after the prisoner is released. Your status as a "rescuer" is diminished, and other emotional triggers jeopardize your happiness. This is when reality hits, and actually living together puts an end to the fantasy.
Surviving the Inmate Marriage Packet
Prison weddings are highly regulated and dependent on the permissions granted by the prison officials. Most carry extensive restrictions, depending on the prison and the state in which it's located. Your first task is to find out from the prison officials if marriage to an inmate is permissible within the prison and state. Some states deny the application if the prisoner is on death row.
If your marriage is allowed, request the marriage packet from prison officials. This is a series of forms that require extensive background information on both parties, substantiated with documented proof. Driving licenses, passports, birth certificates and any government-issued documentation are all valid proof. Falsification of any information by either party is cause for denial.
You'll both be required to sign the forms and submit them with the fee required, which can range up to several hundred dollars and must be paid for with outside funds, not anything accumulated by the prisoner while incarcerated. Expect to hear back from the prison officials, but this may take anywhere from weeks to months.
Setting the Wedding Date
Once you've received permission from the prison, you can set a wedding date. The marriage certificate has to be signed by both parties and notarized, which occurs inside the prison. The prison may assign an officiant or give you permission to bring one in from the outside. Just know that no robes or formal garb is permitted.
Witnesses also need to be approved. They can be pulled from the prisoner's visitor list, supplied by the prison or, if the prison is lenient, can be brought in. Strict dress codes must be met, and everyone has to clear prison security. Don't plan on a champagne toast after the ceremony as alcohol is strictly prohibited.
After the "I Do's"
Don't expect to consummate your marriage after saying your vows. Conjugal visits are not allowed in federal prisons, and most state and local prisons also deny conjugal visits. The prisoner's record of good behavior or the severity of the crime determines whether the prison will grant a conjugal visit in the few states that allow them. The U.S. Supreme Court voiced their opinion and determined that the Constitution doesn't consider conjugal visits a prisoner's right.
Depending on the facility, you may be given time to be alone for a few minutes after the wedding ceremony. You may be supervised from afar or separated by glass.
Same Sex Marriages
Same sex marriages are allowed in federal prisons. Petitioners must follow the same procedures as those of heterosexuals who want to be married in prison. State and local prison facilities have the right to grant or deny the marriage according to state law. If the state does not allow same sex marriage, the state prison won't allow it either.
Prison Marriage After Release
Although the statistics point to a high incidence of divorce, persons who were married prior to a prison sentence have a greater chance of staying together after release than those who marry while in prison. A host of emotional and lifestyle baggage comes to the forefront when the prisoner returns home.
The person who lived on the outside has created a life that works for him and his family, and that structure is now threatened by another voice. The returning prisoner finds that she's not a valued member of the family or the family's social circle, and finding her place in the familial and social community is difficult. Like a long-distance romance, once the parties are together, large and small differences come to the surface and must be dealt with.
Lack of self-esteem is a major setback when a prisoner returns home. Getting a job and contributing to the household finances are difficult tasks. If children are involved, gaining their trust is an ongoing task. Even parties who were married and familiar with each other before incarceration face these difficulties. It's much more challenging when a stranger enters your everyday life.
A Successful Prison Marriage
A strong and mutual faith helps both parties maintain physical and emotional strength after marrying in prison. Continual counseling is a necessary component as is the ability to talk about your feelings with each other outside of counseling. Like all marriages, the garden must be tended constantly to bear fruit.
-
References
Writer Bio
A writer for many years, Jann has contributed to television programming revolving around legal issues, written for magazines and web sites regarding the law, and her manuals on real estate law specifics are used in real estate schools in Florida.