What Is the Meaning of Absolute Divorce in Maryland?
By Rogue Parrish
Updated June 13, 2017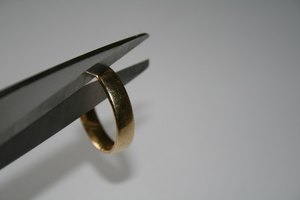 The process of divorce is usually highly stressful to a couple, and unfamiliarity with legal terms can add to the difficulty. Legal aid services advise consulting with an attorney at the time of separation. If you will be obtaining a divorce in Maryland, based on you or your spouse living there for at last one year, you can learn more about how the Old Line State defines applicable terms.
Significance
Maryland courts, like those throughout the United States, look at married persons as having entered into a contract. The Maryland Legislature enacts laws to protect the state's interests in preserving families. In the case of your potential divorce, Maryland courts may determine who was at fault in the breakup of the marriage, visitation rights, and custody of minor children and property division.
Types
Maryland allows for a limited divorce 1. In these cases, a court supervises the separation of the couple, providing financial relief if needed and resolving questions regarding the children, without dissolving the marriage. An absolute divorce dissolves the marriage, unlike a limited divorce, which acts as a separation agreement. If you don't need spousal support and don't have property to divide, you generally will not need a limited divorce.
Function
An absolute divorce judgment in Maryland provides for custody arrangements of the children, payments of child support and alimony, and settlement of personal property. The judgment may distribute the couple's assets, ordering the sale of joint property and the division of the proceeds, allocation of one party's pension and changing title to jointly owned property,
Effects
The parties are free to remarry after obtaining an absolute divorce in Maryland. Absolute divorce terminates property claims. Neither party can inherit property from the other, notes the Women's Law Center of Maryland, a nonprofit corporation based in Towson, in its pamphlet titled "Legal Rights in Marriage and Divorce in Maryland." Property owned during the marriage jointly as husband and wife becomes property held in common, such that each owns half the property. A woman may ask the court to order that she resume her birth name. The law center notes that these requests are almost always granted and are less expensive than returning to court later.
Considerations
A spouse must prove that at least one or more of Maryland's eight allowable grounds for divorce exist. These are adultery, desertion, voluntary separation for 12 months, two-year separation, cruelty of treatment, domestic violence, conviction of a crime and insanity.
Misconceptions
You do not need to get a limited divorce before an absolute divorce, as noted in the Maryland Annotated Code, in the Family Law section, subsection 7, notes the law center and the online Maryland Family Law website 12.
Time Frame
The Maryland Legislature, which meets each year from January through April, can revise domestic relations laws. The Women's Law Center recommends that you follow news reportage during this time to learn of possible changes in absolute divorce statutes. Your attorney also will be able to guide you on legislative changes.
References
Resources
Writer Bio
An award-winning writer and editor, Rogue Parrish has worked at the Washington Post, the Baltimore Sun and at newspapers from England to Alaska. This world adventurer and travel book author, who graduates summa cum laude in journalism from the University of Maryland, specializes in travel and food -- as well as sports and fitness. She's also a property manager and writes on DIY projects.